Tip for you: Did you know that as a member of the BestDrive Club (BDC) you can buy cheaper?
Buy as BDC
Test a výměna tlumičů
Popis služby
Test tlumičů pérování prováděný na speciálním testovacím zařízení. Výměna vadných tlumičů pérování na základě výsledků z testu tlumičů nebo vizuální kontroly.
Přednost služby
Rychlé a velmi přesné měření účinnosti tlumičů bez pracné a nákladné demontáže. Výsledek testu s použitím speciálního testovacího zařízení je k dispozici během několika minut. Zákazník obdrží protokol o výsledku měření. Odborně proškolený personál současně poskytne k výsledku testu komentář, poradenství a v případě nutnosti doporučí a provede výměnu tlumičů.
Přínos pro zákazníka
Identifikace závady tlumičů speciálním testovacím zařízením. Odborná výměna vadných tlumičů pérování na místě. Zvýší se bezpečnost jízdy, stabilita vozidla a jízdní komfort. Prodlouží se životnost pneumatik.
Popis
Nesprávná funkce tlumiče pérování, zvláště ve spojení s nerovnou vozovkou, způsobuje ztrátu kontaktu pneumatiky s vozovkou, což má za následek prodloužení brzdné dráhy a zvyšuje riziko ztráty kontroly nad vozidlem (smyk, rozhoupání vozidla, …). Vadné tlumiče pérování rovněž zvyšují opotřebení dílů souvisejících se zavěšením kola,  zvyšují opotřebení pneumatik, snižují komfort jízdy a stabilitu vozidla. Z výše popsaných důvodů je tedy zřejmé, že vadné tlumiče pérování ovlivňují bezpečnost provozu vozidla a jeho posádky.
Zda jsou tlumiče schopny plnit tuto základní funkci lze nejlépe prověřit na speciálním testovacím zařízení. Výstupem měření je protokol s číselně a graficky zpracovanými hodnotami účinnosti tlumičů přední i zadní nápravy, včetně vyhodnocení rozdílu účinnosti pravého a levého tlumiče. 
Na základě výsledku testu tlumičů pérování jsme schopni provést jejich výměnu.
Nabízíme značkové tlumiče ověřené kvality. Výměnu provedeme okamžitě nebo na základě dohody se zákazníkem.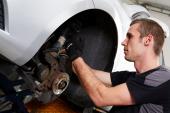 Využijte naší nabídky!
Správně fungující tlumiče zvyšují Vaši bezpečnost, bezpečnost provozu Vašeho vozidla, zvyšují životnost pneumatik a snižují předčasné opotřebení podvozkových součástí Vašeho vozidla!
V našich vybraných servisech najdete nejen radu, ale i odbornou pomoc!
Pozn: Služba je dostupná na vybraných prodejnách, vyhledejte si prodejnu, která službu nabízí.
V našich servisech můtete také zakoupit pneumatiky koncernu Continental:
K této službě nabízíme možnost využít také ostatní servisní služby: