Tip for you: Did you know that as a member of the BestDrive Club (BDC) you can buy cheaper?
Buy as BDC
Test a výměna autobaterií
POPIS SLUŽBY
Testovacím zařízením zjistíme technický stav autobaterie.
PŘEDNOST SLUŽBY
Rychlá a 100% kontrola stavu akumulátoru.
PŘÍNOS PRO ZÁKAZNÍKA
Budete mít jistotu, že se můžete spolehnout na stav svého akumulátoru.
POPIS
Autobaterie slouží v automobilu jako dodavatel energie pro spouštění motorů a k napájení palubních sítí. Jak důležité je mít právě toto vybavení ve 100% kvalitě poznal jistě již každý motorista. Ztratí-li autobaterie svou funkci, je vozidlo nepojízdné. Není náhodou, že většinou je to právě v okamžiku, kdy automobil nutně potřebujete.
Servisní prodejny BestDrive, mají ve své nabídce nové autobaterie pro všechny typy osobních vozidel. Baterie jsou naplněné elektrolytem, nabité a připravené k okamžitému použití.
Proto jsme tady, abychom Vám stav Vaší autobaterie zkontrolovali. Proto jsme tady, abychom Vám pomohli nejen bezplatnou kontrolou stavu Vaší autobaterie, ale zároveň Vám v případě nutnosti provedli i výměnu staré autobaterie, která již dosloužila - za novou. Likvidaci již nevyhovující, staré autobaterie za Vás zajistíme my. A s novou autobaterií od nás bez problémů odjedete.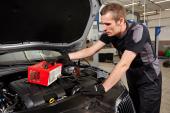 ZNAČKOVÉ AUTOBATERIE MAJÍ TYTO PŘEDNOSTI
Dokonalé provedení a špičkovou technologii
 Nový tvar mřížky, který zajišťuje vysokou energii při startu
 Kapsová separace, která autobaterii zajišťuje vysokou životnost
 Ponořené spojení článků, které omezuje možnost výbuchu autobaterie
 Malou spotřebu vody, což zajišťuje dlouhý interval bez údržby
 Splňují normu DIN, což je záruka evropských parametrů
 Zajímavá cena
Navštivte nás a využijte naši nabídky na vybraných pobočkách BestDrive nebo se můžete OBJEDNAT ONLINE
Pozn: Služba je dostupná na vybraných prodejnách, vyhledejte si prodejnu, která službu nabízí.