Tip for you: Did you know that as a member of the BestDrive Club (BDC) you can buy cheaper?
Buy as BDC
Pneumatiky Barum – vynikající kvalita z České republiky
Společnost Barum (později Barum Continental) byla založena v Otrokovicích v České republice v roce 1948, spojením tří společností Baťa, Rubena a Mitas. Barum je součástí Continental AG od roku 1993. Výrobní závody společnosti Barum se nacházejí také v Portugalsku, Švédsku, Rumunsku a Francii. Při výrobě je kladen důraz na robustnost, univerzálnost a kvalitu za přijatelnou cenu. Barum vyrábí nejen celoroční, letní a zimní pneumatiky pro osobní automobily, ale také pro nákladní, dodávkové a SUV. Pneumatiky značky Barum procházejí náročným testováním s vysokým počtem najetých kilometrů a přesvědčují tím o své kvalitě, vysoké účinnosti a vyvážených jízdních vlastnostech.
Pneumatiky Barum – pneumatiky s vysokým hodnocením v testech
Pneumatiky Barum jsou pravidelně testovány a hodnoceny automobilovými kluby a obchodními časopisy. Výsledky testů jsou vždy na velmi vysoké úrovni. Široká nabídka pneumatik Barum zahrnuje celoroční, letní a zimní pneumatiky pro velkou škálu typů vozidel. Představíme Vám sortiment českého výrobce pneumatik a vyzdvihneme výhodu různých modelů.
Zimní pneumatiky Barum
Zimní období je náročnější na pneumatiky automobilů.  I pro zimní pneumatiky Barum platí, že plní ty nejpřísnější parametry pro bezpečnost díky optimalizovaným dezénum a inovativní směsi.  Veškeré dezény značky Barum pro zimní provoz jsou označeny symbolem M + S a symbolem sněhové vločky, čímž splňují legislativní požadavky ve všech státech "starého kontinentu".
Zimní pneumatiky Barum SnoVanis 2
Skvělé chování pneumatiky Barum SnoVanis 2 zajišťuje elasticita materiálu pneumatiky.   Pro tento dezén je charakteristická bezpečnost jízdy a ekonomický provoz.  Množstvím pevných figur ale i drobných záběrových hran navíc nabízí skvělou trakci.
Barum Polaris 5 – ideální zimní pneumatika pro všestranný provoz 
Novinka v sortimentu osobních plášťů značky Barum, dezén Polaris 5 oplývá vynikajícími vlastnostmi při jízdě na sněhu a ledu.  Vývoj tohoto provedení pneumatiky Barum byl zaměřen především na vyrovnanost parametrů jako komfort, výkon na mokru, aquaplaning, brzdný výkon, trakce a to vše při velmi atraktivním dezénu.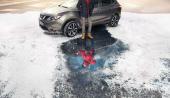 Letní pneumatiky Barum – jistota v teplých měsících
Při cestování v letních horkých měsících je nutné, aby pneumatiky byly schopny absorbovat část teploty z vyhřáté silnice. Směs letních pneumatik je proto tvrdší než u zimních a vždy je vyvíjena tak, aby zvýšila přilnavost k vozovce. S ohledem na bezpečnost se pneumatiky Barum  vyznačují velmi krátkou brzdnou dráhu a pozitivním vlivem na spotřebu paliva. Jelikož letní počasí je doprovázeno silnými bouřkami a přívalovými dešti, je jejich dezén navržen tak, aby vytlačoval co největší objem vody a minimalizoval tak co nejvíce riziko aquaplaningu.  Letní pneumatiky značky Barum jsou tou nejlepší možnou volbou pro jízdu v letních měsících s ohledem na poměr cena/užitek/výkon.
Barum Brillantis 2 - nápadný asymetrický dezén
Jednou z možností, jak poznáte pneumatiku Barum Brillantis 2 je asymetrický dezén. To zajišťuje dokonalou přilnavost a velmi dobré jízdní vlastnosti při jízdě v zatáčkách a rychlých reakcích při řízení vozidla. Kromě toho je tato pneumatika obzvláště tichá a přesvědčuje svou dlouhou životností. Pneumatika Barum Brillantis 2 je vhodná jak pro osobní automobily, tak i pro SUV.
Barum Vanis 2
Pneumatika Barum určená pro dodávková vozidl Vanis 2 se vyznačuje tichou jízdou, která přispívá ke komfortnímu zážitku z jízdy, což oceníte zejména při dlouhých cestách. Její jízdní vlastnosti jsou také velmi pozitivní na spotřebu paliva. Pneumatika Barum Vanis 2 má velmi robustní profil, který podstatně zkracuje brzdnou dráhu a to převážně na suchých vozovkách.
Vybrat si můžete také s dalších premiových značek koncernu Continental: