Tip for you: Did you know that as a member of the BestDrive Club (BDC) you can buy cheaper?
Buy as BDC
Zimní pneu v létě – je to bezpečné?
Co se zimními pneumatikami? Spousta z nás je přezuje, jakmile se na delší dobu oteplí. Někteří s nimi ale jezdí po celý rok, nebo se je snaží "dojet". V takovém případě počítejte, že mimo sníh a led a nad teplotu 7 °C fungují o něco hůř než ty letní.
Česká legislativa dojíždění zimních pneumatik nezakazuje. Podle zákona musí v létě váš dezén splňovat minimální hloubku 1,6 mm, které pravděpodobně se zimní obuví bez problémů dodržíte. Existuje však řada důvodů, proč vyměnit pneumatiky, když přicházejí teplé dny.
Rizika spojená s nepřezutím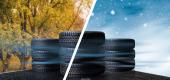 Konstrukce zimních pneumatik je vyrobena na jízdu v blátě a po sněhu. Proto mají označení M + S, z anglického překladu mud and snow (bláto a sníh). Proto bude vaše vozidlo v jiných silničních podmínkách reagovat hůře.
Rozdíl brzdné dráhy za standardních letních podmínek se zimní obuví může být až 20 %. To už není vzdálenost, nad kterou by člověk máchl rukou. Pneumatiky do chladných měsíců se stoupající teplotou dráhu prodlužují. V extrémním případě může dojít k přehřátí pneu a následnému defektu. V mokru dráhu prodlouží zejména kvůli nedostatečné hloubce dezénu. Plášť nedokáže dostatečně odvádět vodu, při brzdění se před pneumatikou tvoří vodní klín a hrozí aquaplaning.
V létě se také zimní pneumatiky mnohem rychleji opotřebovávají. Důvodem je odlišná směs, ze které jsou vyrobeny. Rovněž mají zvýšení valivý odpor. S tím jde ruku v ruce i větší spotřeba paliva a hlučnost.
Řešením těchto problémů, které mohou vzniknout při dojíždění zimní obuvi a nepřesedlání na letní pneu, je pořízení celoročních pneumatik. Není to však východisko pro všechny. Doporučujeme je hlavně řidičům, kteří nesedí za volantem každý den a za sněhu či námrazy vyráží do ulic jen málokdy.
Celoroční pneu – vyplatí se?
Celosezónní alternativa přináší mnoho výhod i nevýhod a jejich poptávka stále stoupá. V posledních pěti letech jejich podíl na trhu vzrostl přibližně o 20 %. Pro jejich použití v zimním období je potřeba dodržet hloubku dezénu minimálně 4 mm a označení M+S. Tímto však disponuje většina celoročních pneumatik.
Tento typ "obuvi" je určen zejména autům s ročním nájezdem v řádech jednotek tisíců kilometrů. Doporučuje se do města, výhradně tedy bez větší pokrývky sněhu a námrazy.
Výhody
Hlavní přednost těchto pneumatik je očividná. Lze je používat po celý rok. Nemusíte tak řešit přezutí a objednání do autoservisu. S tím se pojí i náklady za uskladnění, které platit taky nemusíte.
Dalším výhodou, která stojí za zmínku, je počasí. Nemůže vás překvapit. I kdyby začalo v průběhu dubna sněžit, váš vůz s celoročními pneumatikami bude mnohem lépe připravený, než kdyby byl obut do letní sady. Navíc se oproti těm zimním v teplých měsících tolik neopotřebovávají.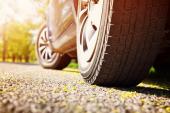 Nevýhody
Podstatné je však zvážit i druhou stranu mince. Celoroční obutí je vždy pouhým kompromisem mezi letní a zimní pneu, navíc s jedním rozměrem. Znamená to, že na teplo se nejlépe hodí právě ty letní a do mrazu naopak zimní.
Na tuto nevýhodu navazuje bezpečnost provozu. Auto s celoroční sadou za sucha při měření brzdné dráhy nikdy svými vlastnostmi nedosáhne na vozidlo s letními pneumatikami. To samé se dá říct o porovnání pneu na sněhu. Proto spousta odborníků dbá na pravidlo, že průměrná letní či zimní pneumatika je vždy lepší volbou než nejlepší celoroční.
Pokud se stále přikláníte na stranu celosezónního obutí, doporučujeme strávit pár minut výběrem a testy.
Jak dopadlo testování?
V roce 2020 uskutečnil časopis AutoBild test celoročních pneumatik pro obytné vozy. Vybrali si ty, které splňují normu M+S, pro zkoušku jízdních vlastností vozidlo VW Crafter o hmotnosti 3,2 tun a na posouzení komfortu (hlučnosti) obytnou dodávku Knaus.
Na prvním místě, s 91 % úspěšnými recenzemi, se umístily pneumatiky značky Continental VancoFourSeason. Na neuvěřitelných 100 % uspěly v kategoriích chování na suchu i mokru, opotřebení a hlučnost.