Tip for you: Did you know that as a member of the BestDrive Club (BDC) you can buy cheaper?
Buy as BDC
Renovace světlometů
POPIS SLUŽBY
Profesionální renovace zašlých, polykarbonátových světlometů.
PŘEDNOST SLUŽBY
Polykarbonátové světlomety během provozu stárnou, mění barvu a zhoršují svítivost i vaši viditelnost. Profesionální renovací světlometů šetříte náklady za jejich výměnu.
PŘÍNOS PRO ZÁKAZNÍKA
Díky převratné technologii navrátíme Vašim světlometům původní průhlednost a tím výrazně zvýšíme jejich svítivost ve srovnání se stávajícím stavem. Díky lepšímu vzhledu, průhlednosti i lesku bude Váš vůz opět atraktivní. V případě prodeje si tak vozidlo zachová svou tržní cenu.
POPIS
V dnešní době již většina výrobců vozidel preferuje u světlometů polykarbonát namísto skla. Ten snižuje hmotnost vozidla, je bezpečnější a umožňuje výrobu světel prakticky v jakémkoliv tvaru. Jde však o plast, který mnohem méně odolává provozním podmínkám, kartáčovým myčkám, UV záření apod.
Důsledkem je většinou matný, zažloutnutý povrch, který nelze v domácích podmínkách odstranit. V servisech BestDrive disponujeme profesionální technologií, která si s takto poškozeným povrchem snadno poradí a navrátí světlometům průhlednost a lesk. Renovaci provádíme ve třech stupních, speciální brousící a leštící metodou. Odhadovaný čas renovace pro jeden světlomet je 30 až 40 minut v závislosti na velikosti světlometu a míře zašlosti.
Naši pravidelně školení mechanici jsou schopni, po dohodě se zákazníkem, v rámci možnosti konkrétního servisního pracoviště, samozřejmě provést i další činnosti v rámci odstranění zjištěných závad.
Aktuální cenu této služby Vám rádi sdělí na vybrané prodejně BestDrive.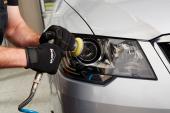 Pozn: Služba je dostupná na vybraných prodejnách, vyhledejte si prodejnu, která službu nabízí.