Tip for you: Did you know that as a member of the BestDrive Club (BDC) you can buy cheaper?
Buy as BDC
Matador – připraven na výzvy
S pneumatikami Matador, vyvinutými skutečnými odborníky, jste připraveni na jakoukoliv misi. Mnoho let zkušeností Matadoru ve vývoji pneumatik se promítá do dynamických, moderních a hospodárných produktů. S Matadorem jste připraveni na jakoukoliv výzvu. Jako součást prestižního koncernu Continental, má Matador dlouhou tradici plnění požadavků na kvalitu díky vysoké evropské kompetenci v oblasti výroby a technologií.
Značka Matador představuje následující klíčové hodnoty:
Dynamika: Moderní značka plná energie, velmi aktivní s velkými ambicemi.
Zkušenosti: Více než 110 let zkušeností v odvětví výroby pneumatik.
Produkty: Široký sortiment pokrývá všechny segmenty a všechny povětrnostní podmínky.
Značka Matador představuje dlouhou tradici, široké portfolio a spolehlivý výkon.
Historie společnosti Matador
1905 – Založena společnost MATADOR
1925 – První pneumatika vyrobena pod značkou Matador v Bratislavě
1930 – Byl vynalezen systém na spojení železa a pryže – Matador získal
             patentová práva
1933 – Matador vyrábí první československou terénní pneumatiku Goliath
1934 – Matador začal prodávat super balónové pláště Mamut
1947 – Položen základní kámen nové továrny v Púchově
1950 – Dne 1. května byla otevřena nová pneumatikárna
1955 – Začátek výroby dopravních pásů
1968 – Začátek výroby radiálních nákladních pneumatik "STEEL"
1976 – Začátek výroby "ALL Steel" nákladních pneumatik
1990 – Gumárny Barum Púchov – státní akciová společnost
1993 – Privatizace firmy a návrat pod značku Matador
1993 – Příprava nové generace zimní pneumatiky MP55
1999 – Založení společného podniku na výrobu nákladních pneumatik mezi 
             Continentalem a Matadorem
2000 – Matador  vyvinul novou generaci vysokorychlostní pneumatiky MP41 Aquilla - v rychlostní kategorii W (až 270km/h)
2004 – Matador vstoupil do segmentu  4x4/SUV pneumatik s novým produktem – MP71 Izzarada A/T a MP91 Nordicca
2004 – Matador představil první celoroční pneumatiku MP61 Adhessa
2005 – Nové logo společnosti
2007 – Continental AG získal většinový podíl v Matador Rubber Division
2010 – Kompletní správa akcií společností Continental AG
2012 - Představení nové řady osobních a SUV pneumatik MP 92 Sibir Snow 
2015 - Představení nové generace nákladních pneumatik HR4
2016 - Uvedení na trh nové SUV pneumatiky MP 72 Izzarda A/T 2
2017 - Představení nové celoroční řady pneumatik MPS 400 Variant All Weather 2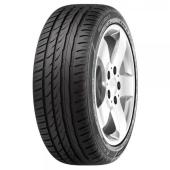 Pneumatiky Matador řadí koncern Continental ve svém porfoliu jako značku s vynikajícím poměrem cena/výkon a svou širokou výrobní řadou dosahuje skvělé pokrytí potřeb evropského trhu.
Výrobní řada Pneumatik Matador je bohatá a to především v sortimentu pneumatik osobních a VAN a nákladních a speciálních.
Vybrat si můžete také s dalších premiových značek koncernu Continental: