Tip for you: Did you know that as a member of the BestDrive Club (BDC) you can buy cheaper?
Buy as BDC
Pneuservis pro osobní vozy, VAN a 4x4
V současné době, když na cestách jezdí vozidla s mnohem vyššími konstrukčními rychlostmi, kdy přibývají kilometry rychlostních silnic a dálnic, když na cestách přibudou počty vozidel a s tím i počty řidičů s různými zkušenostmi a různou délkou praxe v řidičském umění – právě z těchto důvodů vystupuje do popředí i kvalita a odbornost servisu pneumatik.
Pneuservis není jen:
Demontáž, montáž a vyvážení kol, soubor činností, které jsou prováděny na nejmodernějších strojních zařízeních.
Provedení kvalitní práce odborně proškoleným personálem je u nás samozřejmostí.
Bezpečná jízda je to nejdůležitější, proto je naším standardem dotažení všech šroubů kol momentovým klíčem.
Abychom zvýšili životnost vašich pneumatik a snížili valivý odpor, doporučujeme doplňkovou službu huštění inertním plynem.
S ojetými a nepoužitelnými pneumatikami si nemusíte dělat starosti, ekologicky je za Vás zlikvidujeme.
Naší nespornou výhodou je, že si pneuservisní služby můžete objednat online přímo na vámi vybranou pobočku.
Online nabízíme pouze vybrané služby. Nenašli jste Vámi poptávanou službu v naší nabídce k online objednání – ptejte se na Vámi vybrané pobočce.
Co získáte navíc?
Pneuservis pro osobní vozidla, VAN a SUV, který je nabízen v naší servisní síti, poskytuje zákazníkovi nejen odbornost z pohledu kvality odvedené práce, ale současně také množství technických detailů o pneumatikách. Dozvíte se informace nejen o rozměrech a dezénech pneumatik, ale také o nosnosti pneumatik, rychlostní kategorii, případně jiné důležité věci související s konkrétním vozidlem a jeho používáním v provozu. Naši servisní technici spolu s prodejním personálem se Vám budou věnovat s maximální péčí.
Dalším velkým bonusem pro Vás je, že většina našich servisních mechaniků má současně i odbornost automechanika. V tom se lišíme od mnoha servisů, které nabízejí obdobnou službu.
Potřebujete poradit s výběrem pneumatik?
V současné době, kdy na cestách jezdí vozidla s mnohem vyššími konstrukčními rychlostmi, kdy přibývají kilometry rychlostních silnic a dálnic. Analogicky rostou počty aut na silnicích, je potřeba myslet na co nejlepší a nejkvalitnější obutí vašeho automobilu. 
Pokud nejste zkušení anebo nemáte stoprocentní jistotu, Přijeďte k nám! Naši zkušení a odborně vyškolení zaměstnanci Vám rádi pomohou s výběrem vhodného obutí.
Již víte, co chcete? Vyhledejte si pneumatiky v našem přehledném konfigurátoru a přidejte si k Vaší volbě i pneuservisní službu. 
Postup je jednoduchý: Vyhledáte si svou pneumatiku, přejdete do košíku a zakliknete na pobočce ze se servisem. Příslušná pneuservisní služba se přidá automaticky.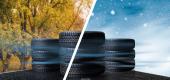 Vy jezdíte, my se staráme! Váš tým BestDrive.