Tip for you: Did you know that as a member of the BestDrive Club (BDC) you can buy cheaper?
Buy as BDC
Motorové oleje
Jako člověk se neobejde bez vody, tak i automobil se neobejde bez oleje. Proč? Protože každé vozidlo má spoustu součástí, které se o sebe mohou třít a bez promazání se zaseknout, případně zničit. Abychom předešly těmto problémům, je potřeba mít ve Vašem vozidle všechny provozní kapaliny v pořádku. Jaké kapaliny je potřeba ve vozidle kontrolovat a servisovat?
Motorový olej je bezesporu jednou z nejdůležitějších provozních kapalin ve vozidle. Motor je složen ze spousty součástí, které aby správně fungovaly musí být správně promazávány. Další, co k provozu vozidla je nutné, je chladicí kapalina. Ta slouží k tomu, aby se motor nepřehříval a správně fungoval. Pokud už zmiňujeme kapaliny ve vozidle, nesmíme opomenout také brzdovou kapalinu, o té se dozvíte více zde. V servisní síti BestDrive Vám naši profesionálně vyškolení zaměstnanci rádi Vaše vozidlo zkontrolují a poradí s případnými problémy.
Vyberte si Váš olej servisní balíček
Motorový olej a jeho výměna
Motorový olej má podstatný vliv na životnost, stav motoru vozidla a úsporu provozních nákladů. Lze říct, že se jedná v přímé míře o menší úsporu pohonných hmot a v nepřímé minimalizuje rizika nákladných oprav z důvodu předčasného opotřebení pohonné jednotky. Správný motorový olej musí splňovat spoustu vlastností. Nejdůležitější je, že musí dobře ulpívat na mazaném povrchu, musí odvádět vznikající třecí a provozní teplo, musí chránit kovové i nekovové části motoru před korozí. Za studena nesmí být moc hustý, aby byl schopen v co nejkratším čase dosáhnout všech mazaných míst. Za tepla by neměl být moc řídký, aby byl schopen na mazaných místech udržet stabilní olejový film. Z těchto důvodů je velmi důležité dodržovat termíny výměny doporučené výrobcem vozidla, po ujetí určitého počtu km.
V servisní síti BestDrive používáme značkové oleje. Jedná se o oleje, které jsou součástí I. vybavení mnoha známých značek. Tyto oleje se rovněž prezentují v těžkých provozních podmínkách mnoha automobilových závodů. (Formule 1, DAKAR, atd.) Široký výběr těchto olejů používaných v naší servisní síti, zaručuje zákazníkovi splnění výrobcem požadovaných vlastností i vysokou kvalitu. Naši mechanici jsou schopni vám poradit a vybrat ten správný typ oleje pro vaše vozidlo. Výměnu provádíme buď okamžitě, nebo na základě objednání. Vždy podle potřeby zákazníka. Součástí výměny olejů je vždy i výměna olejového filtru.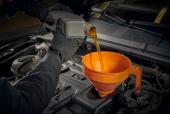 Výrobcem vozidla předepsanou lhůtou pro výměnu motorového oleje šetříte Váš vůz! Kvalita námi používaných olejů je zárukou pro Vaše správné rozhodnutí o výměně oleje v síti BestDrive!
Máme pro Vás připravené Olej servisní balíčky. Tyto balíčky obsahují 4 litry motorového oleje, olejový filtr a práci. Vše získáte za výhodnou fixní cenu, proto neváhejte a vyberte si pro Vás ten nejvhodnější balíček.
Pozn: Olejové balíčky jsou určeny pouze pro vozidla s běžnými viskozitními specifikacemi: 0W-20, 0W-30, 0W-40, 5W-30, 5W-40, 5W-50, 10W-40, 10W-60, 15W-40
Vy jezdíte, my se staráme. Váš tým BestDrive!