Tip for you: Did you know that as a member of the BestDrive Club (BDC) you can buy cheaper?
Buy as BDC
Výměna oleje a filtrů
POPIS SLUŽBY
Výměna motorového oleje včetně filtru a ekologické likvidace upotřebeného oleje a filtrů z této servisní činnosti.
Objednejte si službu online
Online nabízíme pouze vybrané služby. Nenašli jste Vámi poptávanou službu v naší nabídce k online objednání – ptejte se na Vámi vybrané pobočce.
PŘEDNOST SLUŽBY
Použití značkového oleje a olejového filtru s nabídkou pro všechny typy motorů.
PŘÍNOS PRO ZÁKAZNÍKA
Výměna provedená v našich servisech zbavuje zákazníka povinnosti ekologické likvidace, kvalitní motorový olej zvyšuje životnost motoru.
POPIS
Motorový olej má podstatný vliv na životnost a stav motoru vozidla. Navíc má nezanedbatelný vliv i na úsporu provozních nákladů a to jak přímo v podobě menší spotřeby pohonných hmot, tak i nepřímo minimalizací rizika nákladných oprav z důvodu nadměrného předčasného opotřebení pohonné jednotky. Musí splňovat celou řadu vlastností. Především musí dobře ulpívat na mazaném povrchu, musí odvádět vznikající třecí a provozní teplo, musí chránit kovové i nekovové části motoru před korozí. Za studena nesmí být moc hustý, aby byl schopen v co nejkratším čase dosáhnout všech mazaných míst. Za tepla zase nesmí být moc řídký, aby byl schopen na mazaných místech udržet stabilní olejový film. Z těchto důvodů je velmi důležité dodržovat termíny výměny doporučené výrobcem vozidla, po ujetí určitého počtu km.
Ve vybraných servisních prodejnách BestDrive provádíme výměnu motorových olejů především systémem odsávání. Pro výběr vhodného typu oleje pro vozidlo zákazníka je jeho výrobcem předepsaná viskozita a jeho výkonnostní kategorie(motor benzinový, nebo naftový).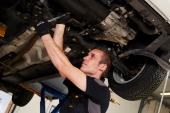 V servisní síti BestDrive používáme značkové oleje. Jedná se o oleje, které jsou součástí I. vybavení mnoha známých značek. Tyto oleje se rovněž prezentují v těžkých provozních podmínkách mnoha automobilových závodů. (Formule 1, DAKAR, atd.) Široký výběr těchto olejů používaných v naší servisní síti, zaručuje zákazníkovi splnění výrobcem požadovaných vlastností i vysokou kvalitu. Naši mechanici jsou schopni vám poradit a vybrat ten správný typ oleje pro vaše vozidlo. Výměnu provádíme buď okamžitě, nebo na základě objednání. Vždy podle potřeby zákazníka. Součástí výměny olejů je vždy i výměna olejového filtru.
Výrobcem vozidla předepsanou lhůtou pro výměnu motorového oleje šetříte Váš vůz ! Kvalita námi používaných olejů je zárukou pro Vaše správné rozhodnutí o výměně oleje v síti BestDrive !
Objednat online na výměnu oleje můžete zde
Pozn: Služba je dostupná na vybraných prodejnách, vyhledejte si prodejnu, která službu nabízí.