Tip for you: Did you know that as a member of the BestDrive Club (BDC) you can buy cheaper?
Buy as BDC
Jak nakoupit jako člen klubu BestDrive
Nabízíme Vám jedinečnou možnost vyzkoušet si nákup jako člen klubu BestDrive.
Co je to klub BestDrive a co Vám přináší?
Věrnostní program autoservisní a pneuservisní sítě BestDrive přináší pro zákazníky jednoduchý systém sbírání bodů za nákupy a využité služby. Už při první platbě za naše služby a nebo produkty si na svůj účet připíšete body, které můžete později vyměnit za slevové poukázky či praktické dárky. Každý člen Klubu BestDrive je jako člen naší rodiny. A když jsme pro rodinu ochotni udělat vždy více, zasíláme pravidelně členům Klubu BestDrive lákavé akční nabídky, připomínáme jim důležité termíny v rámci servisu jejich vozidla a chystáme pro ně zajímavé benefity. Jedné, co je pro získání uvedených benefitů potřebné udělat, je zaregistrovat se u nás do Klubu BestDrive.
Přidejte se do Klubu už dnes!
Čím dřív se stanete členem Klubu BestDrive, tím dřív začnete čerpat výhody, které jsme pro naše členy připravili. Registraci je možné provést osobně v některé z našich poboček při platbě za nákup produktů a nebo služeb. V případě nákupu prostřednictvím našeho e-shopu www.bestdrive.cz postupujte podle níže uvedeného návodu.
Jak nakoupit jako člen klubu BestDrive?
Jak nakoupit jako zákazník klubu BestDrive?
Pro nákup jako člen klubu BestDrive je nutné na konci objednávky vložit číslo Klubové karty (stávající členové) nebo kód KBNOVY (zákazníci žádající o vstup do Klubu tímto prvním nákupem).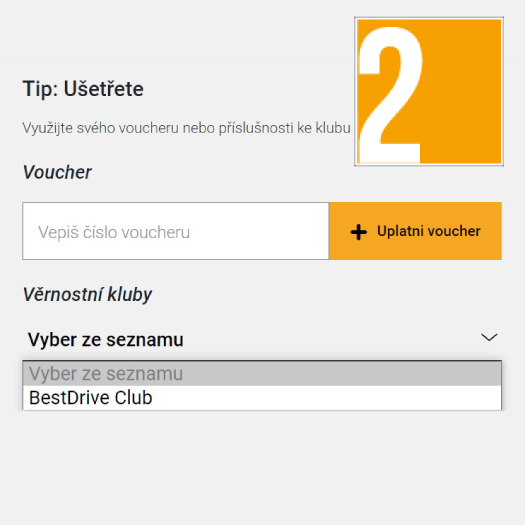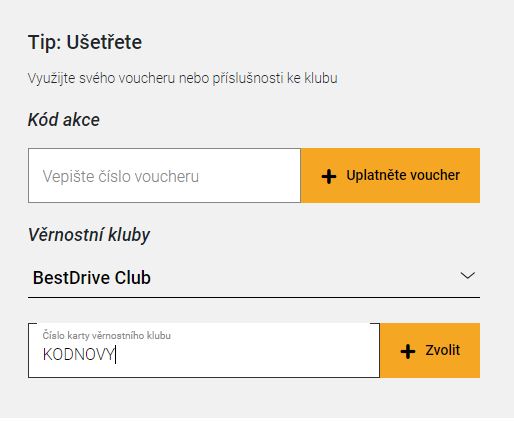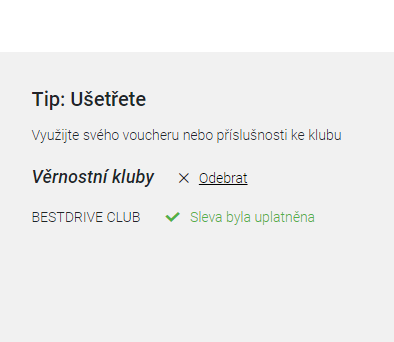 Na konci objednávky vyberte věrnostní klub. Zvolte - BestDrive klub
Po výběru věrnostního klubu se Vám zobrazí pole do kterého vložíte kód člena klubu - kód je KBNOVY. Kliknete na tlačítko zvolit
Již nakupujete jako člen klubu BestDrive a sleva se uplatnila.
V případě, že jste tedy uplatnili kód KBNOVY jako nový zákazník, který chce tímto prvním nákupem vstoupit do Klubu Bestdrive je  podmínkou následná registrace do klubu BestDrive, kterou provedete po nákupu na pobočce během pár minut.
Jak tato registrace probíhá se dozvíte zde.