Tip for you: Did you know that as a member of the BestDrive Club (BDC) you can buy cheaper?
Buy as BDC
Uniroyal – pneumatiky s mnohaletou tradicí
Značka Uniroyal se vždy soustředila na výrobu vysoce kvalitních pneumatik, které si udržují výborné jízdní vlastnosti na jakémkoliv povrchu vozovky. Společnost je již delší dobu součástí koncernu Continental AG a těží z desetiletých zkušeností světově uznávaného výrobce pneumatik. Uniroyal se zaměřuje zejména na pneumatiky pro mokré vozovky.
Historie značky Uniroyal
Založením gumárenské firmy v Lutychu roku 1868 se začala psát historie úspěšného výrobce pneumatik. Belgická společnost, která byla tehdy známá jako Englebert Tyres se v roce 1958 sloučila s americkou společností US Rubber a průběhem let postupně ze vzniklé značky Uniroyal-Englebert zkrátila na Uniroyal. V pozdější době provedla fúzi se společností Continental AG.
Specializace na výrobu dešťových pneumatik začala v 70 letech 20 století a pokračuje dodnes. Vynikající ovladatelnost a jízdní vlastnosti na mokrých vozovkách jsou charakteristické rysy pneumatik Uniroyal, což historické události potvrzují a zajišťují výbornou pověst značky.
Postupem času se výroba rozšířila i na pneumatiky pro ostatní typy vozovek.
Uniroyal pneumatiky pro každý účel
Jako výrobce primárně pneumatik do deště získala dlouho zavedená společnost celosvětovou slávu. Za značkou Uniroyal se skrývá mnohem víc než jen výborný výkon na mokrých vozovkách. Sortiment pneumatik je velmi rozsáhlý, a to od vysoce kvalitních letních i zimních pneumatik až po celoroční pneumatiky. Mezi jejich nesporné výhody patří:
Inovativní design
Výborný poměr cena – výkon
Nejnovější technologie ve výrobě
Ať už plánujete jízdu v jakémkoli počasí, pneumatiky Uniroyal jsou ty, které Vám zajistí komfortní jízdu a pocit bezpečí.
Pneumatiky Uniroyal kvalita pro letní období
Jedinečnost letních pneumatik Uniroyal spočívá v jejich typickém symetrickém dezénu. Tato symetrie zaručuje vyváženou jízdu jak na suchých, tak i na mokrých cestách se zárukou bezpečnosti a pohodlí z jízdy. Speciální profil pláště spolu s dezénem optimalizovaným pro odvod vody snižuje riziko aquaplaningu. Řada letních pneumatik Uniroyal zahrnuje nejen pneumatiky pro osobní vozidla, ale i pro VAN a SUV. Ze sortimentu stojí za zmínku například Uniroyal RainExpert ideální pro jízdu na mokrých vozovkách, nebo Uniroyal RainSport  pneumatika pro výborný sportovní výkon. Díky inovativní technologii Uniroyal Shark Skin mohou rychlé sportovní vozy a luxusní vozidla optimálně vyvážit svůj výkon na silnici i na deštěm nasáklých površích.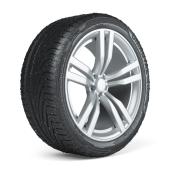 Zimní pneumatiky – jistota bezpečné jízdy na sněhu a ledu
I při jízdě v zimě jste v bezpečí s pneumatikami Uniroyal. Všechny zimní pneumatiky jsou přizpůsobeny extrémním podmínkám chladného období a přesvědčují výbornou přilnavostí na vozovkách pokrytých ledem, sněhem a blátem. Díky speciálním směsím a 3 - lamelovému profilu patří modely Uniroyal MS Plus 77 pro osobní automobily a Uniroyal Snow Max 2 pro dodávky a lehké nákladní automobily mezi nejlepší pneumatiky pro jízdu na sněhu.
Celoroční pneumatiky značky Uniroyal
I ve značce Uniroyal nabízíme kvalitní celoroční pneumatiky. S řadou Uniroyal AllSeasonExpert 2 a Uniroyal AllSeasonMax si zajistíte bezpečnou a spolehlivou jízdu po celý rok a vyznačují se vynikající ochranou proti aquplaningu, výborným handlingem a krátkou brzdnou dráhu za všech povětrnostních podmínek.
Vybrat si můžete také s dalších premiových značek koncernu Continental: