Tip for you: Did you know that as a member of the BestDrive Club (BDC) you can buy cheaper?
Buy as BDC
Příprava vozidla na STK
Popis služby
Vaše vozidlo zkontrolujeme a připravíme na provedení STK. V případě zájmu zařídíme kontrolu STK za vás. Vozidlo zanecháte v servisu a po provedení kontroly si vozidlo s platnou STK vyzvednete. Tato služba nezahrnuje přípravu vozidla na kontrolu Emisí.
Objednejte si službu online
Online nabízíme pouze vybrané služby. Nenašli jste Vámi poptávanou službu v naší nabídce k online objednání – ptejte se na Vámi vybrané pobočce.
Přednost služby
Kontrola vozidla před STK zkušeným mechanikem odhalí závady, které brání provedení STK. Zjištěné závady po dohodě odborně opravíme za příznivou cenu v nejkratším možném termínu. Náš technik za Vás zajistí objednání a provedení STK. Před ukončením platnosti STK Vám nabízíme zdarma zaslání upozorňovací SMS.
Přínos pro zákazníka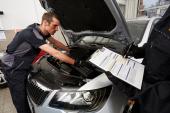 Díky našim zkušenostem s přípravou vozidla na STK a provedením pravidelné technické kontroly se vyhnete nepříjemnostem a finančním nákladům spojených s opakováním technické kontroly. Na případné zjištěné závady Vás upozorníme a po dohodě odborně odstraníme, čímž se výrazně zvýší Vaše bezpečnost. Zajistíme za Vás termín a potřebné administrativní úkony. Na stanici STK zajedeme za Vás a Váš čas tak můžete využít mnohem efektivněji. Díky naší upozorňovací SMS již nezapomenete na pravidelnou technickou prohlídku a vyhnete se tak případné pokutě.
Popis
Příprava Vašeho vozidla na STK naším kvalifikovaným mechanikem včetně prohlídky na zvedáku zahrnuje především tyto kontroly:
Správnost identifikačních údajů vozidla
Úplnost povinné výbavy vozidla
Viditelnost z vozu (skla, stěrače, ostřikovače, zrcátka)
Stav a funkčnost osvětlení (vizuální kontrola)
Stav brzd (vizuální kontrola) a funkce ruční brzdy
Provozní vůle v řízení a nápravách
Stav podvozkových dílů
Těsnost a stav výfukového systému
Těsnost motoru, převodové skříně a únik provozních kapalin
Stav pneumatik (hloubka dezénu, správnost rozměru, poškození, DOT, nerovnoměrné opotřebení)
Stav karoserie
Prohlídkou Vašeho vozidla před STK získáte přehled o reálném stavu kontrolovaných částí. V případě zjištěné závady od nás dostanete nabídku na její odstranění.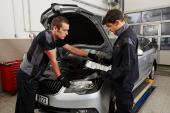 Během přípravy vozidla na STK Vám můžeme i zkontrolovat a vyměnit provozní kapaliny (olej, brzdová kapalina, chladící kapalina), které mají určitou životnost a jejich pravidelnou výměnou zabezpečujete nejen delší životnost součástí vozidla, ale hlavně dbáte na svou bezpečnost a komfort jízdy.
Obdobně jsme Vám schopni nabídnout kontrolu a seřízení geometrie, která výrazně přispívá ke snížení opotřebovávání Vašich pneumatik a bezpečnost a komfort jízdy.
V síti BestDrive jsme připraveni o Vaše vozidlo plnohodnotně pečovat.