Tip for you: Did you know that as a member of the BestDrive Club (BDC) you can buy cheaper?
Buy as BDC
Opravy autoskel
POPIS SLUŽBY
Odborně opravené bodové praskliny čelního skla vozidla do průměru 2,5 cm poškození a opravy podélných prasklin v maximální délce 15 mm poškození.
PŘEDNOST SLUŽBY
Provedením opravy se zabrání dalšímu prasknutí skla v místě původního poškození. Sklo po opravě nevykazuje optickou vadu. Zákazník obdrží atest pro případnou kontrolu STK, Policie ČR, apod.
PŘÍNOS PRO ZÁKAZNÍKA
Realizace opravy přináší klientovi významnou finanční úsporu, neboť není nutno provádět výměnu čelního skla. Zákazník ušetří čas i náklady.
POPIS
V současné době realizujeme tuto službu ve vybraných servisech. Výměna poškozeného čelního skla je finančně nákladná. Poškození čelního skla je závada typu C, pro kterou není vozidlo způsobilé k provozu na pozemních komunikacích. Potíže mohou vzniknout i při kontrole na STK, neboť kontrola čelního skla je zařazena mezi vybraná kontrolní místa. Při silniční kontrole Policií ČR se řidič s poškozeným čelním sklem vystavuje odebrání osvědčení o technického průkazu k vozidlu. Při cestě do zahraničí s poškozeným čelním sklem nebude řidiči umožněn vjezd na území cizího státu.
To jsou jen některé z problémů, které řidiče s poškozeným čelním sklem čekají, nehledě k tomu, že bezpečnost řidiče a celé posádky vozu je z důvodu omezeného výhledu snížena. Právě z těchto důvodů vstupuje do popředí odbornost, kvalita a profesionalita služeb, které jsou prováděny ve vybraných pobočkách autoservisní sítě BestDrive, které mají pro tuto opravy čelních skel autorizaci.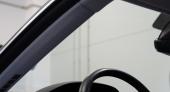 Dlouholetá tradice, profesionalita, znalosti a zkušenosti servisního i prodejního personálu, profesionální značkové servisní zařízení a prvotřídní použitý materiál jsou dostatečnou zárukou toho, že se na naše služby můžete spolehnout.
Neměňte zbytečně čelní sklo a zkuste si jej u nás nechat opravit!
Pozn: Služba je dostupná na vybraných prodejnách, vyhledejte si prodejnu, která službu nabízí.