Tip for you: Did you know that as a member of the BestDrive Club (BDC) you can buy cheaper?
Buy as BDC
Příprava a zajištění STK
Příprava na STK
Končí vašemu vozu platnost STK? Jsme tu pro Vás. Naše síť nabízí Přípravu na STK. Vaše vozidlo zkontrolujeme a po dohodě připravíme na průběh STK
Kontrola vozidla zkušeným mechanikem odhalí závady, které brání provedení STK. Zjištěné závady odborně odstraníme za příznivou cenu v nejkratším možném termínu.
Díky našim zkušenostem s přípravou vozidla a provedením pravidelné technické kontroly se vyhnete nepříjemnostem a finančním nákladům spojených s opakováním technické kontroly. Případné zjištěné závady odborně odstraníme, čímž se výrazně zvýší Vaše bezpečnost.
Příprava Vašeho vozidla na STK naším kvalifikovaným mechanikem včetně prohlídky na zvedáku zahrnuje především tyto kontroly: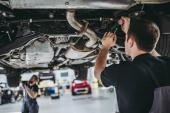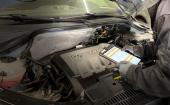 Správnost identifikačních údajů vozidla
Úplnost povinné výbavy vozidla
Viditelnost z vozu (skla, stěrače, ostřikovače, zrcátka)
Stav a funkčnost osvětlení
Stav brzd a funkce ruční brzdy
Provozní vůle v řízení a nápravách
Stav podvozkových dílů
Těsnost a stav výfukového systému
Těsnost motoru, převodové skříně a únik provozních kapalin
Stav pneumatik (hloubka dezénu, správnost rozměru, poškození, DOT)
Stav karoserie
Prohlídkou Vašeho vozidla získáte přehled o reálném stavu kontrolovaných částí. V případě zjištěné závady od nás dostanete nabídku na její odstranění.
Využijte této autoservisní nabídky a kontaktujte Vaši nejbližší pobočku BestDrive nebo se objednejte online! 
Zajištění STK
Máte málo času? Chcete svůj čas využít efektivněji s rodinou, přáteli nebo jinak než čekáním ve frontě na STK? Jme tu pro Vás. V případě zájmu jsme schopni Vám STK kompletně zajistit včetně kontroly emisí.
V případě zájmu zařídíme kontrolu za Vás. Prostě u nás vozidlo necháte a vyzvednete si jej po provedení kontroly emisí a STK. Zajistíme za vás termín a potřebné administrativní úkony. Na stanici STK zajedeme za Vás a Váš čas tak můžete využít mnohem efektivněji. Díky naší upozorňovací SMS již nezapomenete na pravidelnou technickou prohlídku a vyhnete se tak případné pokutě.
V případě nezdárného průběhu jsme připraveni příčiny odstranit za příznivé ceny a v co možná nejkratším možném termínu.
V případě Vašeho zájmu o provedení emisí nebo STK přineste s sebou tyto doklady:
technický průkaz vozidla
osvědčení o registraci vozidla (osvědčení o technickém průkazu)
protokol z poslední technické prohlídky, je-li vozidlo přistavováno k opakované technické prohlídce
protokol z posledního měření emisí v případě, že je vozidlo přistavováno po odstranění dříve zjištěných nedostatků k opakovanému měření
Ceny servisních prací a náhradních dílů Vám rádi sdělí na kterékoliv pobočce BestDrive.