Tip for you: Did you know that as a member of the BestDrive Club (BDC) you can buy cheaper?
Buy as BDC
Letní obuv pro vás i vaše auto
Pod pojmem "letní obuv" si spousta z vás představí letní pneumatiky nebo sandály. Oba případy jsou důležité a mají zásadní vliv na naše řízení. Nevhodné boty, někdy bosé nohy, za volantem způsobují špatnou ovladatelnost vozidla a dostanou vás do problémů stejně jako nepřezuté pneumatiky.
Ústřední automotoklub České republiky a oddělení ministerstva dopravy BESIP otestovali vhodnou obuv na řízení osobního automobilu i motocyklu. Během testování vyzkoušeli například vysoké podpatky, žabky, sandály, pánské lakýrky i bosou nohu. 
Žabky za volant nepatří
Nevyhovující obuv během testování prodloužila brzdnou dráhu vozu s rychlostí okolo 50 km/h z ideálních 12,3 metrů na nebezpečných 16,1 metrů. Žabky a podobné přezutí za volant tedy nepatří. S nezpevněnou patou se dostatečně nezapřete do pedálu. Nemáte potřebnou oporu. Zpocená noha v plastových žabkách navíc značně klouže.
Pozor na pravidla
V některých zemích vám za bosé nohy, žabky nebo obuv bez zpevněné paty hrozí pokuta. Příkladem je Německo. V Británii zákon nařizuje řidičům nosit oblečení a boty, které nebrání náležitému ovládání vozidla. Obdobně se s takovým pravidlem setkáte v Maďarsku, Bosně a Hercegovině nebo Dánsku.
Co si obout
Za volant vybírejte pohodlnou obuv s pevnou patou, která vás netlačí. Ujistěte se, že je v ní vaše noha stabilní a má potřebnou ohebnost.
Vsaďte na nižší podrážku s vhodným vzorem. Zachováte si cit pro pedál a ucítíte zpětnou vazbu od auta. Hladký povrch podrážky po pedálech často klouže a velká tloušťka způsobuje nižší citlivost při sešlápnutí.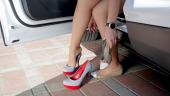 Letní obuv vašeho vozu
Důležité je správné obutí řidiče i vozu. Při volbě letních pneumatik se dívejte na spotřebitelské testy a rozhodně automaticky nesahejte po těch nejlevnějších. Mnohdy nevyhovují v oblastech hlučnosti, opotřebení, spotřebě paliva a ovladatelnosti na mokru. Kvalitnější pneu vás v mnohých situacích zachrání.
Příkladem je tzv. aquaplaning.
Aquaplaning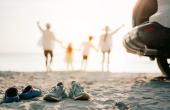 Aquaplaning vzniká díky zvýšené hladině vody na silnici a jejím nedostatečným odvodem. Pod kolem se tvoří tzv. vodní klín. Pneumatika ztrácí kontakt s vozovkou a vy přicházíte o bezpečné ovládání auta.
Jak mu předcházet
Základem jsou kvalitní pneumatiky s dostatečnou hloubkou dezénu. Příkladem je naše pneu Uniroyal. Tento specialista do deště v případě problému dostatečně rychle odvádí nebezpečnou vodu a udrží si stálý kontakt se silnicí.
Při prudkém dešti se vyhýbejte kalužím, kolejím s vodou a záplavám tekoucím přes vozovku.
Přizpůsobte rychlost a styl jízdy nebezpečné situaci. Zpomalte a prudce nezatáčejte.
Co dělat v případě problému
Začátek aquaplaningu poznáte podle cuknutí volantu při tvorbě vodního klínu a "plaváním" auta.
Když už se do něj dostanete, zachovejte klid. Nebrzděte. Nepřidávejte plyn. Prudce nezatáčejte. Dostanete se do smyku.
Pevně držte volant, uberte plyn a vyšlápněte spojku. Uvolníte hnací kola. Ta se o vodu zpomalí a obnoví kontakt s vozovkou. Auto jste opět dostali pod svou kontrolu.
V BestDrive vám přejeme bezpečně letní cestování a zážitky bez nehod.