Tip for you: Did you know that as a member of the BestDrive Club (BDC) you can buy cheaper?
Buy as BDC
Servis brzd
Popis služby
Vizuální kontrola a případná výměna poškozených částí brzdového systému.
Objednejte si službu online
Online nabízíme pouze vybrané služby. Nenašli jste Vámi poptávanou službu v naší nabídce k online objednání – ptejte se na Vámi vybrané pobočce.
Přednost služby
Náš odborný mechanik Vás upozorní na opotřebované brzdové destičky, případně jiné vady v brzdovém systému.
Přínos pro zákazníka
Odstranění závad v brzdovém systému zvyšuje bezpečnost Vaši i Vašich spolucestujících.
Popis
Je skutečností, že moderní brzdové systémy v automobilech již málokdy selžou. Ale jejich opotřebení vlivem času a používání nelze zabránit. Pokud je Vaše vozidlo v našem servisu, požádejte o kontrolu brzdových destiček. Tato kontrola Vám může signalizovat v jakém skutečném stavu jsou a velmi často odhalí i jiné příčiny poklesu brzdového účinku Vašeho vozidla. Opotřebení dílů (především destičky, čelisti, kotouče), závady na přívodech brzdové kapaliny, vadné pryžové části, netěsnosti a únik brzdové kapaliny, nedostatečná přítlačná síla u obložení a další možné závady zjistí jen zkušení odborníci při kontrole celého systému.
Zaměření naší činnosti v rámci rychlého servisu je především výměna brzdových destiček. Naši kvalifikovaní servisní pracovníci jsou schopni po dohodě se zákazníkem a v rámci možnosti konkrétního servisního pracoviště, samozřejmě provést i další činnosti v rámci odstranění zjištěných závad.
Po ukončení práce na brzdovém systému by měla vždy nejprve následovat zkušební jízda.
Nechávejte si pravidelně kontrolovat brzdové destičky a celý brzdový systém! V našich vybraných servisech Vám tuto kontrolu zajistíme.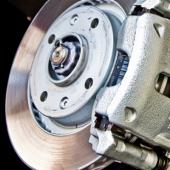 Pozn: Služba je dostupná na vybraných prodejnách, vyhledejte si prodejnu, která službu nabízí.
V našich servisech můtete také zakoupit pneumatiky koncernu Continental:
K této službě nabízíme možnost využít také ostatní servisní služby: