Tip for you: Did you know that as a member of the BestDrive Club (BDC) you can buy cheaper?
Buy as BDC
Diagnostika elektronických systémů
DIAGNOSTIKA ELEKTRONICKÝCH SYSTÉMŮ
POPIS SLUŽBY
Profesionální diagnostika Bosch KTS pro komunikaci s řídícími jednotkami osobních vozidel.
PŘEDNOST SLUŽBY
Diagnostikou elektronických systémů vozidla, získáte rychlý přehled o fungování elektronických systémů vozidla bez nákladné a časově náročné demontáže a kontroly jednotlivých dílů.
PŘÍNOS PRO ZÁKAZNÍKA
Včasným odhalením případných závad elektronických systémů vozidla předejdete následnému vzniku závažných poruch a poškození Vašeho vozidla. 
POPIS
Elektronické systémy v nových moderních automobilech jsou čím dál náročnější a složitější. Funkce těchto systémů jsou neustále elektronicky hlídány řídícím systémem vozidla a v případě chyby, závady nebo funkční odchylky není vždy řidič na závadu upozorněn varovnou kontrolkou na přístrojové desce. Z tohoto důvodu je důležitá pravidelná kontrola elektronických systémů vozidla. Někdy může dojít i ke spuštění tzv. nouzového režimu vozidla, kdy je pro ochranu před dalšími navazujícími závadami nebo poškozeními omezen výkon motoru a zákazník je tímto upozorněn na okamžitou nutnost návštěvy odborného servisu a provedení profesionální diagnostiky vozidla. 
Bez kvalitní diagnostiky se dnes u mnohých vozidel ale nedají provádět ani běžné servisní úkony, jakými jsou např. výměna brzdových destiček, výměna brzdové kapaliny, nastavení servisního intervalu po výměně oleje, po pravidelných servisních prohlídkách, výměna autobaterie a pod.
V celé servisní síti BestDrive Vám tudíž nabízíme základní diagnostické práce zahrnující načtení pamětí závad řídících jednotek vozidla, např. řídící jednotky motoru, brzdových systémů, ABS/ESP, klimatizace, komfortních systémů vozidla apod., dále servisní práce vyžadující diagnostický přístup jako již zmíněná výměna brzdových komponentů (zejména u vozidel s elektronickou parkovací brzdou) a v neposlední řadě mazání odstraněných závad a nastavování servisních intervalů po provedených servisních úkonech.
Naši pravidelně školení mechanici jsou po dohodě se zákazníkem a v rámci možností konkrétní provozovny schopni provést i další náročnější servisní činnosti související s diagnostikou, následnou opravou a odstraněním zjištěných závad.
Aktuální cenu této služby Vám rádi sdělí na vybrané prodejně BestDrive.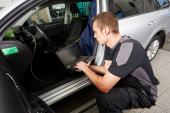 Pozn: Služba je dostupná na vybraných prodejnách, vyhledejte si prodejnu, která službu nabízí.