Tip for you: Did you know that as a member of the BestDrive Club (BDC) you can buy cheaper?
Buy as BDC
Čištění interiéru aut
POPIS SLUŽBY
Kompletní údržba interiéru vozu včetně zavazadlového prostoru.
PŘEDNOST SLUŽBY
Ruční čistění za použití značkových čistících materiálů určených speciálně pro konkrétní část vybavení vozu.
PŘÍNOS PRO ZÁKAZNÍKA
Proč nepřenechat starost o čistotu interiéru vozidla odborníkům. Proč nevyužít výhodné nabídky, kdy se Vám někdo postará o údržbu vnitřních prostor vozidla. I to Vám zajistíme v našich servisech.
Touto službou chceme ušetřit Váš čas, námahu a navíc perfektně vyčištěný interiér působí profesionálně a zanechává pocit luxusu.
POPIS
V současné době realizujeme tuto službu ve vybraných servisech.
Jsme schopni se v rámci této služby postarat o interiér Vašeho vozu z pohledu kompletní nabídky.
Čistění interiéru jako kompletní služba souvisí s vysátím podlah vozidla a zavazadlového prostoru, umytím palubní desky a všech plastových a koženkových výplní, umytí a ošetření gumových podlahových koberečků, umytím a naleštěním všech skleněných výplní, naleštěním přístrojové desky a promazáním závěsů dveří a dveřních zámků.
Zastavte se v našich vybraných servisech a nechte si dokonale vyčistit svůj automobil.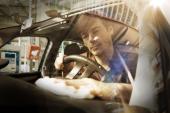 Pozn: Služba je dostupná na vybraných prodejnách, vyhledejte si prodejnu, která službu nabízí.