Tip for you: Did you know that as a member of the BestDrive Club (BDC) you can buy cheaper?
Buy as BDC
Když vás překvapí kontrolky v autě
Spousta z nás určitě zažila přípravu na dovolenou. Dlouhá cesta před námi. Strach, zda nám něco nechybí. Jestli se nám to všechno vejde do kufru. Pak už máte konečně zabaleno, můžete vyrazit. Cela rodina je v autě, vy otočíte klíčkem a auto vás pozdraví rozsvícenou oranžovou ikonou. Člověk ani nemusí být expert, aby poznal, že je něco špatně a dál se nejede. Nebo alespoň v následujících několika hodinách.
Když vás takhle překvapí rozsvícená kontrolka v autě, není třeba začít hned panikařit. Ne všechny rozsvícené symboly znamenají konec světa nebo závadu řídící jednotky. Hlavní je jim věnovat pozornost a vědět, co znamenají.
Dobrý rádce každého řidiče
Obecně můžeme ikony v přístrojovém štítu chápat jako univerzální jazyk. Díky němu máme šanci se dozvědět, jaký je provozní stav vozidla a zda se vyskytl problém. U novějších aut se ke znakům připojily psané komentáře na palubním počítači.
Přesný seznam kontrolek v autě neexistuje. Výrobci se sice snaží dbát na univerzální srozumitelný standard, určité značky vozidel se však se svými symboly odlišují. Příkladem jsou japonské nebo severoamerické automobilky.
Základ tvoří barevné schéma a jejich zapamatování. Funguje jako na semaforu. Zelená barva značí, že je systém v pořádku. Oranžová, popřípadě žlutá, varuje před nadcházející závadou. Červená je už poplašné znamení a dává nám vědět, že je něco špatně. V takové situaci je nejlepší zastavit a snažit se problém vyřešit. Jinak by se další ujeté kilometry mohly stát hazardními.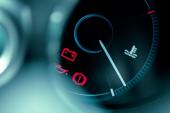 Zelená – nic se neděje
V případě zelené se není čeho obávat. Její význam je čistě informativní a rozzáření vám zaručí, že systém funguje správně. Například máte rozsvícená obrysová, nebo potkávací světla a můžete vyrazit.
Oranžová – potíže na obzoru
Tady přichází na řadu výstražné varování. Pokud se objeví oranžová barva na palubním štítku, s autem není něco v pořádku.
Můžete pokračovat v jízdě, ale na semaforu tato barva nesvítí moc dlouho. Je tedy potřeba závadu v nejbližších dnech opravit. Občas stačí doplnit kapalinu do ostřikovačů, někdy zajet do servisu vypálit saze z filtru pevných částic.
Červená – auto v ohrožení
Červený symbol varuje před závažnou poruchou. Je tedy nutné zastavit a vypnout motor. Dokud problém nevyřešíte, ať už sami nebo za pomocí odtahové služby, neměli byste pokračovat v jízdě.
Výjimkou jsou kontrolky upozorňující na otevřené dveře nebo nezapnuté pásy, které snadno vyřešíte sami.
Nejčastější problémy a co s nimi
Mezi nejběžnější oranžové hrozby patří řídící jednotka motoru. Ozve se v případě, že je ovlivněné složení emisí. U dieselových a některých zážehových motorů nastává ucpání filtru pevných částic.
Celá situace může skončit ztrátou výkonu, takže návštěvu servisu neoddalujte.
Další běžnou příhodou je závada vznětového motoru, ke které dochází při blikání kontrolky žhavení během jízdy. Správně by se měla rozsvítit při startu. Pokud ale zůstane i nadále zářit, nebo naopak se nezapne vůbec, naznačuje poruchu.
Červeným problémem s ikonou baterie se v mnoha situacích stává dobíjení. Vozidlo nás tak upozorňuje, že alternátor neprodukuje proud. Poradíte si tak, že vše nepotřebné vypnete a se zbývající energií dojedete do nejbližšího servisu.
Znak ruční brzdy je také četnou záležitostí. V mnoha případech je brzda jen zatažena a stačí ji uvolnit. Jakmile začne blikat, chybí brzdová kapalina. Pokud nepřestane ani po doplnění, s největší opatrností zastavte v opravně. Brzdy nemusí být spolehlivé.
S novými moderními automobily roste náročnost elektronických systémů. Jsou čím dál tím více složitější, a ne vždy vám řídící systém ukáže každou chybu na přístrojové desce.
Z tohoto důvodu doporučujeme pravidelnou kontrolu elektronického systému vozidla. V celé servisní síti BestDrive vám nabízíme jak základní diagnostiku, tak i náročnější s následnou opravou a odstraněním případných závad. Stačí si jen zvolit nejbližší pobočku.
Vy jezdíte, my se staráme!