Tip for you: Did you know that as a member of the BestDrive Club (BDC) you can buy cheaper?
Buy as BDC
Dezinfekce interiéru ozonem
POPIS SLUŽBY
Mikrobiologická dezinfekce interiéru vozidel a kabinových částí klimatizace ozonem, který zlikviduje veškeré viry, bakterie, plísně a zdroje zápachu.
Objednejte si službu online
Online nabízíme pouze vybrané služby. Nenašli jste Vámi poptávanou službu v naší nabídce k online objednání – ptejte se na Vámi vybrané pobočce.
PŘEDNOST SLUŽBY
Ozon je nejdokonalejší dezinfekční činidlo. Po aplikaci ozon nezanechává žádné stopy a nezpůsobuje žádné alergické či dýchací potíže, které mohou vytvářet chemické dezinfekční prostředky.
PŘÍNOS PRO ZÁKAZNÍKA
100% jistota dezinfekce interiéru vozidla a systému klimatizace.
Neexistuje žádný virus, bakterie ani plísně, které by odolaly ozonu.
Ozon je schopen odstranit I těžko identifikovatelné zdroje zápachu, např. po kouření.
POPIS
V současné době realizujeme tuto službu ve vybraných servisech.
Ozonem vydezinfikujeme:
Interiér vozidla
Výparník a kabinové části klimatizace
Délka dezinfekce: cca 1 hodina
Pro 100% úspešnost dezinfekce interiéru vozidla doporučujeme provést i výměnu kabinového filtru. Kabinový filtr se po určité době zanese prachem, listím apod. V zaneseném kabinovém filtru se udržuje vlhkost, která vytváří podmínky pro tvorbu plísní a vznik zápachu. Výměna kabinového filtru se doporučuje provádět po ujetí 15 000 km nebo nejméně 1x za rok, v závislosti na prostředí, ve kterém se vozidlo pohybuje.
Jako prevenci doporučujeme provádět proces dezinfekce interiéru a klimatizace 2x za rok.
Zastavte se v našich vybraných servisech a nechte si dokonale vydezinfikovat interiér vašeho vozidla.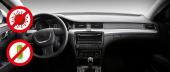 Pozn: Služba je dostupná na vybraných prodejnách, vyhledejte si prodejnu, která službu nabízí.
V našich servisech můtete také zakoupit pneumatiky koncernu Continental:
K této službě nabízíme možnost využít také ostatní servisní služby: