Tip for you: Did you know that as a member of the BestDrive Club (BDC) you can buy cheaper?
Buy as BDC
Servis a opravy klimatizací
POPIS SLUŽBY
Diagnostika a opravy klimatizačních systémů vozidel.
PŘEDNOST SLUŽBY
Naše společnost poskytuje servis klimatizace již od roku 2003 a pravidelně školí své automechaniky v nejlepších školících střediscích. K samozřejmosti patří špičkové servisní vybavení i vodíkové sady pro odhalení i sebemenšího zdroje úniku chladícího média.
PŘÍNOS PRO ZÁKAZNÍKA
Správnou diagnostikou nefunkčnosti chladícího systému, odhalení zdroje poruchy nebo zdroje úniku chladícího média a jeho opravou Vám šetříme nejen finanční prostředky, ale i zvyšujeme komfort užívání Vašeho vozidla. 
POPIS
Klimatizace je dnes již v mnoha případech součástí základního vybavení vozidel. Stává se tak nepostradatelným pomocníkem, který v automobilu vytváří příjemné prostředí nejen v létě, ale v podstatě v průběhu celého roku. Ačkoliv se klimatizace jeví jako uzavřený bezúdržbový systém, dochází zde k pozvolnému úniku chladícího média, jehož velikost se uvádí až 30% za 2 roky. Běžná údržba spočívá především v kontrole předepsaného množství chladícího prostředku a dalších operací, které jsou součástí automatického testu našich moderních servisních přístrojů. Dále doporučujeme i pravidelnou výměnu pylového (kabinového) filtru včetně dezinfekce celého vnitřního rozvodu vzduchu v kabině vozidla.
Pokud se na vašem vozidle projeví nefunkčnost, či snížená funkčnost chladícího systému nebo vám při pravidelné údržbě zjistíme zásadní úniky chladícího média jsou naše vybrané provozovny vybaveny proškoleným personálem, diagnostickými přístroji a postupy pro diagnostiku zdroje poruchy nebo úniku chladiva i sadami na jejich opravu.
Pravidelně proškolovaný personál je zárukou, že odjedete s plně funkčním systémem a budete se k nám rádi vracet na pravidelnou údržbu.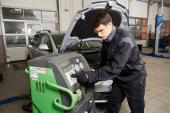 V našich servisech můtete také zakoupit pneumatiky koncernu Continental:
K této službě nabízíme možnost využít také ostatní servisní služby: