Tip for you: Did you know that as a member of the BestDrive Club (BDC) you can buy cheaper?
Buy as BDC
Test funkčnosti klimatizace
Naše společnost poskytuje servis klimatizace již od roku 2003 a pravidelně školí své automechaniky v nejlepších školících střediscích. K samozřejmosti patří špičkové servisní vybavení i vodíkové sady pro odhalení i sebemenšího zdroje úniku chladícího média. 
Využijte i další námi nabízené služby
Jak klimatizace funguje?
Systém klimatizace v automobilu je uzavřený okruh, který funguje na principu výměny tepla. Jako médium pro přenos tepla se používá freon – náplň R134A a 1234yf.
Okruh má několik funkčních součástí: kompresor, kondenzátor, vysoušeč / akumulátor, expanzní ventil a výparník. Výměna funguje tak, že výparník v kabině automobilu odebere teplo a zahřeje médium. Hadicemi je médium přes kompresor dopraveno do kondenzátoru klimatizace, kde médium teplo zase odevzdá do okolí.
Kompresor klimatizace – stláčí médium. Kompresí freonu roste jeho teplota a hustota tím, že se molekuly ve zmenšeném objemu k sobě přibližují. Médium je poté hadicí odvedeno do kondenzátoru.
Kondenzátor klimatizace – neboli chladič klimatizace je umístěn v místě s velkým náporem proudícího vzduchu v přední části automobilu ještě před motorovým chladičem. Aby se zvýšila účinnost je před kondenzátorem ventilátor, který zajistí proudění vzduchu při stojícím automobilu, nebo při nízkých rychlostech.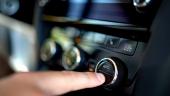 Díky proudícímu vzduchu se proudící médium ochlazuje, ztrácí svou teplotu a tím pádem kondenzuje. Kapalný freon je dále přiveden hadicí přes vysoušeč do expanzního ventilu.
Vysoušeč klimatizace – zbavuje médium přebytečné vlhkosti.
Expanzní ventil klimatizace – tvoří v okruhu překážku, na které se médium mění z kapaliny o vysokém tlaku na rozprášenou mlhu o nízkém tlaku a teplotě, která je dále přivedena do výparníku.
Výparník klimatizace – chladné médium je přivedeno do výparníku a odebírá teplo z jeho materiálu čímž přijímá teplo z interiéru automobilu. Tohoto tepla se systém opět zbavuje později v kondenzátoru – chladiči klimatizace. Touto cestou probíhá tedy výměna tepla mezi interiérem vozu a okolím.
Rating Count: 0 Average Rating: 0