Tip for you: Did you know that as a member of the BestDrive Club (BDC) you can buy cheaper?
Buy as BDC
Údržba klima.soustavy vozidla R134a
Klimatizace  je dnes již v mnoha případech součástí základního vybavení vozidel. Stává se tak nepostradatelným pomocníkem, který v automobilu vytváří příjemné prostředí nejen v létě, ale v podstatě v průběhu celého roku. Ačkoliv se klimatizace jeví jako uzavřený bezúdržbový systém, dochází zde k pozvolnému úniku chladícího média (chladiva), jehož velikost se uvádí až 30% za 2 roky. Běžná údržba klimatizace spočívá především v kontrole předepsaného množství chladícího média a dalších operací, které jsou součástí automatického testu našich moderních servisních přístrojů.
Údržba klimatizace s chladícím médiem R134a je v současné době prováděna na všech našich provozovnách BestDrive. Údržba klimatizace na vybraných provozovnách, které jsou vybaveny novým zařízením, umožňuje servisování vozidel s klimatizací plněnou novým chladivem R134a.
Cena doplněného uniklého chladícího média se účtuje samostatně na základě skutečné hmotnosti.
K provedené službě Vám může být doúčtována použitá montážní chemie (např.: čistič brzd, maziva, apod.), spojovací materiál, případně jiné nutné technické prostředky.
Využijte i další námi nabízené služby
Jak klimatizace funguje?
Systém klimatizace v automobilu je uzavřený okruh, který funguje na principu výměny tepla. Jako médium pro přenos tepla se používá freon – náplň R134A a 1234yf.
Okruh má několik funkčních součástí: kompresor, kondenzátor, vysoušeč / akumulátor, expanzní ventil a výparník. Výměna funguje tak, že výparník v kabině automobilu odebere teplo a zahřeje médium. Hadicemi je médium přes kompresor dopraveno do kondenzátoru klimatizace, kde médium teplo zase odevzdá do okolí.
Kompresor klimatizace – stláčí médium. Kompresí freonu roste jeho teplota a hustota tím, že se molekuly ve zmenšeném objemu k sobě přibližují. Médium je poté hadicí odvedeno do kondenzátoru.
Kondenzátor klimatizace – neboli chladič klimatizace je umístěn v místě s velkým náporem proudícího vzduchu v přední části automobilu ještě před motorovým chladičem. Aby se zvýšila účinnost je před kondenzátorem ventilátor, který zajistí proudění vzduchu při stojícím automobilu, nebo při nízkých rychlostech.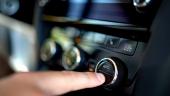 Rating Count: 0 Average Rating: 0