Tip for you: Did you know that as a member of the BestDrive Club (BDC) you can buy cheaper?
Buy as BDC
Test funkčnosti brzd na válcové stolici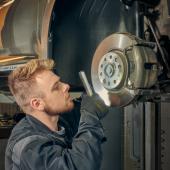 Tato služba zahrnuje test brzd na speciálním testeru, který vyhodnotí, zda jsou schopny plnit své základní funkce. Výstupem měření jsou číselně a graficky zpracované hodnoty účinnosti tlumičů přední i zadní nápravy včetně vyhodnocení rozdílu jejich účinnosti. Současně je vyhotoven protokol o provedeném testu a přiloženo doporučení, zda je nutné tlumič vyměnit za nový.
Vadné brzdy způsobují sniženou nebo nerovnoměrnou intenzitu brzdění na jednotlivých kolech vozidla, což má výrazný vliv na řiditelnost a směrové chování automobilu, zejména při intenzivním brždění. Plně funkční brzdy výrazně ovlivňují bezpečnost vozidla a celé jeho posádky.
Máte zájem o náš výměnu brzdové  kapaliny?
Jak poznat, že máme problémy s brzdami?
Brzdové destičky, kotouče i čelisti postupně ztrácejí svou účinnost. Měly by být, proto preventivně kontrolovány při každé návštěvě autoservisu. V našich servisech nabízíme nechat si brzy otestovat na válcové stolici. Desky se doporučuje měnit se zbývajícím materiálem o tloušťce pod dva milimetry, ale mnohé modernější vozy mají zabudovanou elektronickou signalizaci, která vám nutnost výměny připomene kontrolkou na palubním displeji. Bubnové čelisti snesou v nejhorším případě jeden milimetr. Na našich pobočkách Vám naši mechanici rádi poradí, jestli se vaše brzdy nenachází na kritické hranici a nabídnou Vám nejvhodnější řešení pro Vás automobil. Výdrž nejčastěji používaných kotoučových brzd se odvíjí od stylu jízdy. Při normálním stylu jízdy budou brzdy fungovat spolehlivě dlouhou dobu.
Rozeznání opotřebovaných brzd se za jízdy dá spolehlivě poznat sluchem či citem v rukou a nohách. Ojeté destičky se projevují zvýšenou hlučností, vada se pozná rovněž taháním auta na stranu, vibracemi ve volantu nebo impulsy v brzdovém pedálu. Opotřebované kotouče zpravidla znamenají vyšší hlučnost a nižší účinek navzdory použití zánovních desek. Všechno toto jsou signály pro to začít věc řešit, proto neodkládejte návštěvu naší pobočky a nechte si vaše brzdy profesionálně zkontrolovat.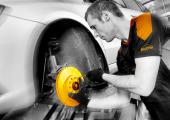 Rating Count: 0 Average Rating: 0