Tip for you: Did you know that as a member of the BestDrive Club (BDC) you can buy cheaper?
Buy as BDC
Výměna brzdové kapaliny - balíček
(1L Brzdové kapaliny + práce)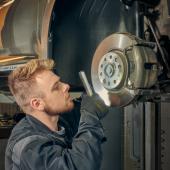 Jedinečná a zjednodušená nabídka kompletní služby výměny brzdové kapaliny.
Nechejte starosti s výběrem správné brzdové kapaliny na nás!
Garantovaná fixní cena balíčku.
Balíček obsahuje:
1L brzdové kapaliny ATE (DOT dle specifikace výrobce vozidla)
Práci (výměna brzdové kapaliny a odvzdušnění brzdové soustavy)
Ostatní položky jako např. další objem brzdové kapaliny nad 1L (potřebný za účelem úplného propláchnutí brzdové soustavy u větších vozidel), použité chemické prostředky na uvolnění zarezlých odvzdušňovacích šroubů nebo na očištění brzdového ústrojí se účtuje samostatně v běžných prodejních cenách nad rámec ceny balíčku.
Balíček obsahuje brzdovou kapalinu značky ATE (špičková kvalita), která splňuje ta nejnáročnější kritéria na kvalitu a životnost. V ceně balíčku je zahrnuto použití brzdových kapalin běžných norem DOT3, DOT4 SL a DOT4 SL6
Předepsaná životnost brzdové kapaliny se pohybuje podle typu od 1 do 2 let. Životnost brzdové kapaliny výrazně ovlivňuje její schopnost vázat na sebe vzdušnou vlhkost a tím snižovat bod varu, který je kritickým parametrem při prudkém nebo déle trvajícím brždění, kdy může dojít k vyvření brzdné kapaliny, vytvoření plynových bublin v brzdové soustavě a tím ke snížení brzdného výkonu (intenzity brždění), což má za následek prodloužení brzdné dráhy.
Abychom Vám mohli zabezpečit správný typ brzdové kapaliny, definovaný výrobcem vozidla, Vás žádáme, abyste do poznámky k objednávce uvedli 17-ti místný číselný VIN kód (kombinace čísel a písmen) a doplnili informace z technického průkazu: výrobce vozidla, model, rok výroby, objem motoru, kód motoru a výkon, typ paliva (např. Hyundai, i30, 2015, 1,4 CRDi, D4FC (U2), 66kW, diesel).
K provedené službě Vám může být doúčtována použitá montážní chemie (např.: čistič brzd, maziva, apod.), spojovací materiál, případně jiné nutné technické prostředky.
Chcete brzdy pouze otestovat?
Uniká brzdová kapalina – může, ale nemusí to být problém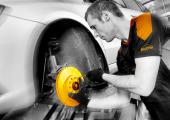 S rostoucím opotřebením brzdové soustavy klesá množství brzdové kapaliny v nádobce umístěné na straně motorového prostoru. Někteří se toho děsí, tuší problém v soustavě, tohoto stavu se ale není třeba obávat, pokud množství neopadne pod rysku minima. Takový úbytek je běžný a není potřeba jej řešit. Pokud ovšem brzdová kapalina uniká bez ohledu na opotřebení brzd, je nutné tento problém řešit. V našich servisech Vám nabízíme balíček – Výměnu brzdové kapaliny s prací.
Tato unikátní nabídka zahrnuje 1 litr brzdové kapaliny vhodný pro vaše vozidlo. Používáme zásadně brzdové kapaliny té nejvyšší kvality ATE (DOT – dle specifikace vozidla). Naši profesionálně vyškolení zaměstnanci Vám brzdovou kapalinu vymění a provedou odvzdušnění brzdové soustavy. Objednejte se online na výměnu brzdové kapaliny nebo si nechte vaše brzdy zkontrolovat na některé z našich poboček.
Rating Count: 0 Average Rating: 0