Tip for you: Did you know that as a member of the BestDrive Club (BDC) you can buy cheaper?
Buy as BDC
Olejový balíček PREMIUM LONGLIFE
(4L motorového oleje + filtr + práce)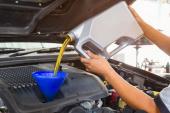 Jedinečná a zjednodušená nabídka kompletní služby výměny motorového oleje.
Nechejte starosti s výběrem oleje a filtru na nás!
Garantovaná fixní cena balíčku, ať Váš motor jede na cokoli.
Balíček obsahuje:
•4L oleje Castrol (viskozita dle specifikace motoru a výrobce vozidla)
•Olejový filtr (dle specifikace motoru a výrobce vozidla)
•Práci (výměna oleje)
Ostatní položky jako např.  další objem oleje nad 4L, případná výměna zátky olejové vany, nastavení servisního intervalu apod. se účtuje samostatně v běžných prodejních cenách nad rámec  ceny balíčku.
Balíček Premium Longlife obsahuje běžné oleje značky Castrol ve viskozitě odpovídající parametrům Vašeho vozidla.
Balíček Longlife je určen převážně pro motory s prodlouženým intervalem výměny oleje (až 2 roky nebo až 40.000 km), ale může být výrobcem vozidla předepsán i pro motory s pevným intervalem výměny oleje (1 rok nebo až 15.000 km)
Pro většinu motorů s pevným intervalem výměny oleje (1 rok nebo až 15.000 km) lze objednat balíček Klasik..
Balíček Klasik je určen pro motory se standardním intervalem výměny oleje (1 rok nebo 10-15.000 km).
Olejové balíčky jsou určeny pouze pro vozidla s běžnými viskozitními specifikacemi:
0W-20, 0W-30, 0W-40, 5W-30, 5W-40, 5W-50, 10W-40, 10W-60, 15W-40
V případě, že vozidlo vyžaduje použití speciálního (ne běžného) oleje, není možné využít olejový balíček. Prodejna Vám ráda vytvoří speciální cenovou nabídku pro Vaše vozidlo
Abychom Vám mohli nabídnout správný motorový olej a filtr, definovaný výrobcem, Vás žádáme, abyste do poznámky k objednávce uvedli 17-ti místný číselný VIN kód a doplnili informace z technického průkazu: výrobce vozidla, model, rok výroby, objem motoru, kód motoru a výkon, typ paliva (např. Hyundai, i30, 2015, 1,4 CRDi, D4FC (U2), 66kW, diesel).
V případě jakýchkoli dotazů kontaktujte naši pobočku.
Přejete si využít jiný balíček olej servisních služeb?

Motorový olej a jeho výměna
Motorový olej má podstatný vliv na životnost, stav motoru vozidla a úsporu provozních nákladů. Lze říct, že se jedná v přímé míře o menší úsporu pohonných hmot a v nepřímé minimalizuje rizika nákladných oprav z důvodu předčasného opotřebení pohonné jednotky. Správný motorový olej musí splňovat spoustu vlastností. Nejdůležitější je, že musí dobře ulpívat na mazaném povrchu, musí odvádět vznikající třecí a provozní teplo, musí chránit kovové i nekovové části motoru před korozí. Za studena nesmí být moc hustý, aby byl schopen v co nejkratším čase dosáhnout všech mazaných míst. Za tepla by neměl být moc řídký, aby byl schopen na mazaných místech udržet stabilní olejový film. Z těchto důvodů je velmi důležité dodržovat termíny výměny doporučené výrobcem vozidla, po ujetí určitého počtu km.
Ve vybraných servisních prodejnách BestDrive provádíme výměnu motorových olejů především systémem odsávání. Výběr vhodného typu oleje pro vozidlo zákazníka je jeho výrobcem předepsaná viskozita a jeho výkonnostní kategorie, ať už se jedná o motor benzínový nebo naftový. K této službě používáme výhradně značkové oleje. Tyto oleje se zároveň prezentují v těžkých provozních podmínkách a mnoha automobilových závodů.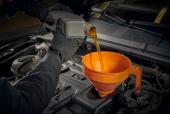 Rating Count: 0 Average Rating: 0