Tip for you: Did you know that as a member of the BestDrive Club (BDC) you can buy cheaper?
Buy as BDC
Proč je pro nás mikrospánek tak nebezpečný a jak se mu vyvarovat?
Téma mikrospánku bývá nejčastěji skloňováno před letní dovolenou, kdy se vydáváme na dlouhé cesty. Nemusí tomu tak ale být pokaždé – mikrospánek pro nás může být rizikem prakticky kdykoli. Většinou se dlouhé vzdálenosti snažíme ujet za co nejkratší dobu, proto si nedáváme přestávky a náš organismus je postupně více a více unaven. K dobru nám moc nepřispívá ani horké počasí, které nás ke spánku vybízí ještě víc.
Nejhorší je reakce člověka
Mikrospánek obvykle trvá od tří do patnácti sekund a po jeho skončení buď usneme úplně, nebo se probudíme. Probuzení však často doprovází trhavá reakce a řidiči často strhnou volant na stranu. To pak může velmi snadno vést k nehodě a ohrožení vašeho zdraví.
Před dlouhými cestami bychom tak měli být dostatečně odpočati a neměli bychom přeceňovat své síly. Raději udělat více kratších přestávek než žádnou a ohrozit tím sebe i ostatní. Nejčastějšími projevy, které indikují, že s námi není něco v pořádku, je zívání a pálení očí. 
Odpočinek jako základ úspěchu
Pokud to jen trochu jde, bude pro vás lepší, když budete cestovat za světla, tedy ve dne. Cestování v noci s sebou přináší mnohem více rizik, nejen mikrospánek. Tělo je naučeno, že má v noci spát, tím tedy mohou být vaše schopnosti a rozhodovací dovednosti značně utlumeny.
S mikrospánkem se nejčastěji setkáme během druhé a páté hodiny ranní, obdobně tomu však je i těsně po obědě kolem 13. až 15. hodiny. Jen při usnutí na tři sekundy a přibližné rychlosti jízdy 90 km/h jede vaše auto bez vaší pozornosti 75 metrů. Situace na dálnici, kdy máte větší rychlost a/nebo usnete na delší dobu, tak může být ještě nebezpečnější.
Přestávky byste si měli dělat nejlépe co dvě hodiny na dobu 15 minut. Protáhněte se, nadýchejte se čerstvého vzduchu a snažte se přijít na jiné myšlenky. Alespoň se tak po dobu "bezpečnostní" přestávky vyhnete sezení u kávy či v autě. Neměli byste podceňovat ani dostatečný pitný režim, který je zvláště v létě potřebnější než kdy dřív. Na kávu a energetické nápoje byste ale měli okamžitě zapomenout, vašemu tělu mohou naopak spíše uškodit. K dostatečné fyzické i psychické pohodě vám také určitě dopomůže vydatná svačina, mělo by se však jednat o něco lehkého, co je pro tělo snadno stravitelné. Zkuste tedy vynechat náročné obědy a přecpávání.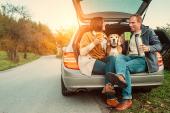 Jako malá pomůcka, se kterou lze mikrospánku předejít, je i hlasitá hudba v rádiu a zapnutá klimatizace / otevřené okýnko. Díky tomu se mikrospánku vyhnete mnohem účinněji. Zejména pokud klimatizace nefunguje zcela správně, může být právě "klima" v kabině vozu jednou z příčin únavy a tudíž i rizika, že vás přepadne mikrospánek. Proto doporučujeme její pravidelnou údržbu a kontrolu našimi odborníky v síti autoservisů BestDrive. Důležitá je totiž nejen její dezinfekce, ale i celková údržba.
Pokuta za něj nehrozí
Řidiči často mikrospánku nepřikládají žádnou větší důležitost zejména proto, že jej nelze pokutovat. Musíte si však uvědomit, že jako řidič vozidla nezodpovídáte pouze sami za sebe, ale také za ostatní v autě a na silnici. Snažte se tedy jezdit bezpečně a buďte ostražití!
K tomu, aby byla vaše jízda bezpečná, nepřispívá jen vaše pozornost a chování za volantem, ale také technický stav vašeho vozu. Proto je důležité věnovat mu náležitou pozornost a absolvovat pravidelné servisní prohlídky, zejména pokud se chystáte např. na letní dovolenou. Vaše starosti s přípravou vozu na dovolenou dokážeme řešit v našich autoservisních pobočkách BestDrive. Přijeďte, vyzkoušejte naši akční nabídku "letní servisní prohlídky" a užijte si "Léto bez starostí!"