Tip for you: Did you know that as a member of the BestDrive Club (BDC) you can buy cheaper?
Buy as BDC
Servisní prohlídka BestDrive
Právě pro Vás síť vybraných servisních prodejen BestDrive realizuje tuto kontrolu se zaměřením na pneumatiky, brzdy, tlumiče a výfukové potrubí. Dále pak kontrolu provozních kapalin, autobaterie a osvětlení vozidla. Současně Vám nabídneme možnost odstranění zjištěných závad. Dle provozních možností buď okamžitě, nebo po dohodě ve Vámi zvoleném termínu.
U této služby je potřeba počítat s časem minimálně 60 minut, ale poskytuje komplexní obrázek stavu Vašeho vozu. Naši vyškolení servisní technici Vám důkladně zkontrolují tyto oblasti:
Kontrola stavu karosérie
Kontrola stavu pneumatik včetně rezervy a opravné sady
Vizuální kontrola seřízení geometrie
Kontrola stavu senzorů TPMS
Vyčtení paměti závad*
Kontrola funkčnosti osvětlení vozidla
Kontrola stavu brzdových destiček a kotoučů
Kontrola bodu varu brzdové kapaliny
Kontrola stavu systému tlumení a pružení
Kontrola stavu čepů, axiálních kloubů táhel řízení, vzpěr stabilizátoru
Kontrola ložisek kol
Kontrola stavu autobaterie
Kontrola stavu hladiny motorového oleje
Kontrola chladící kapaliny
Kontrola stavu čelního skla a stěračů
Kontrola povinné výbavy
Kontrola stavu drážkového řemene
Kontrola stavu výfukového systému
*tuto službu nelze provést u všech typů vozidel.
Komplexní servisní prohlídka vozidla je jednou z nejčastěji žádaných služeb autoservisů BestDrive.
Máte zájem o jiné servisní prohlídky:
CO ZÍSKÁTE PŘI NAŠICH SERVISNÍCH PROHLÍDKÁCH?
Jak již název napovídá, servisní prohlídka je kontrola vybraných a nejpoužívanějších částí automobilu. Na každém vozidle naši mechanici bezplatně provádí vizuální servisní prohlídku (takzvaný check list), zaměřenou na nejvíce exponované komponenty vozidla a která Vám pomůže odhalit viditelné vady na Vašem vozidle. Záznam o stavu těchto komponent, stejně jako stav km, termín STK a další důležité informace o vozidle jsou v digitální podobě zaznamenány mechanikem do našeho systému a připomínáme svým zákazníkům SMS zprávou či mailem termín těchto pravidelných kontrol.
Dochází vašemu vozu STK, jsme tu pro Vás. Naše síť nabízí Přípravu na STK. Tento typ servisní prohlídky zahrnuje prohlídku vozidla, aby "prošlo" kontrolou STK. V případě zájmu jsme schopni Vám STK kompletně zajistit včetně emisí. Prostě u nás vozidlo necháte a vyzvednete si jej s hotovým STK a emisemi.
Další službou je kompletní bezpečnosti, u této služby je provedena rychlá kontrola nejdůležitějších částí vozidla. Prohlídkou Vašeho vozidla získáte přehled o reálném stavu nejdůležitějších kontrolovaných částí. V případě zjištěné závady od nás dostanete nabídku na její odstranění.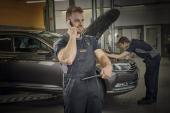 Rating Count: 0 Average Rating: 0