Tip for you: Did you know that as a member of the BestDrive Club (BDC) you can buy cheaper?
Buy as BDC
Jak bezpečně převést vánoční stromeček?
Vánoce se rychle blíží a s nimi i přípravy, v rámci, kterých je potřeba dostat do obýváku hlavní postavu českých Vánoc – stromeček. Jak ho převést z obchodu domů, tak, aby neutrpěl žádné škody on, ani vaše auto, případně cestující? I taková činnost má svá pravidla a vychytávky, díky kterým předejdete nechtěným katastrofám a škodám.
Existují dva způsoby převozu. Buď přímo v autě, nebo na střeše. Ať už se rozhodnete jakkoliv, určitě si nechte stromeček zabalit do sítě. Bude to pro vás praktičtější a pro větve bezpečnější.
Převoz vánočního stromečku v autě
Připravte si staré deky nebo velký igelit na podložení. Jehličí a špatně odstranitelnou smůlu určitě nechcete mít všude po vašem autě.
Pokud je stromek malý, můžete ho obložit dekou a položit na zadní sedadla. Nesmí ale zůstat ležet volně. K připevnění, aby v případě prudkého brzdění nelítal po kabině, budou stačit bezpečnostní pásy auta. Nezapomeňte však, že kmen ani špička nesmí trčet z okýnka.
Větší vánoční stromek převezete v kufru se sklopenými zadními sedadly. Kmen zapřete o pravé přední sedadlo tak, aby neohrožoval řidiče v případě nechtěného uvolnění. Tělo stromku připevněte textilními pásy, které jsou pevné a nepovolí.
Nezapomeňte, že jakýkoliv náklad trčící z auta více než metr musí být označen červeným fáborkem. Při snížené viditelnosti jako je například mlha nebo sněžení, přidejte k fáborku i odrazky a blikající světýlko.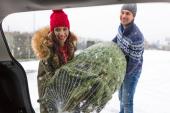 Převoz vánočního stromečku na střeše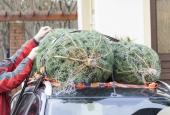 Pro tento způsob převozu potřebujete na střeše auta střešní nosič. Stromeček je na něj třeba správně umístit. Vzhledem ke směru proudění vzduchu doporučujeme otočit ho kmenem dopředu, nad hlavu řidiče a spolujezdce. Vítr vám tak nepoškodí větve. Nezapomeňte, že špička by neměla překrývat vaši poznávací značku, světla či blinkry.
Pro upevnění na střechu v žádném případě nepoužívejte upínací gumy, takzvané gumicuky. Neudrží váš stromek dostatečně pevně. Ohrozíte tak nejen sebe, ale i své okolí. Upínací gumy shledal jako nebezpečné pro převoz vánočního stromečku ve svém bezpečnostním testu také německý autoklub ADAC. Takže si připravte raději textilní pásy, které při správném použití nepovolí ani o milimetr, a zajistí vám tak bezpečnou jízdu.
Při kurtování omotejte kmen a připevněte ho ke střešním nosičům. To samé proveďte se špicí stromu. Stromek by se neměl pohybovat dopředu, dozadu, ale ani do stran.
Když je zelený náklad pevně umístěn, můžete vyrazit na cestu. Počítejte s tím, že se auto bude chovat trochu jinak. Myslete na to a uzpůsobte tomu jízdu, zvlášť pokud je silnější vítr. 
Vánoční stromeček máme doma a zbývají jen dárečky. Už jste přemýšleli, co budete letos nadělovat svým blízkým, přátelům a známým? Nabízíme vám vánoční poukazy s řadou slev na autoservisní služby nebo na zimní výbavu pro váš automobil. Darujte praktický dárek formou slevových poukazů např. na zimní servisní prohlídku. Ulevíte tak od starostí, potěšíte a zároveň přispějete k bezpečí nejen vás, ale i všech, na kterých vám záleží. Nabízíme vám vánoční poukaz do našeho autoservisu BestDrive. Darujte praktický dárek formou servisní prohlídky, který uleví od starostí, potěší a zároveň přispěje k bezpečí vašich blízkých. 
Neváhejte a přijeďte do našich poboček, protože Vánoce začínají v BestDrive!