Tip for you: Did you know that as a member of the BestDrive Club (BDC) you can buy cheaper?
Buy as BDC
Jak správně skladovat pneumatiky a co podniknout se starými?
Mnoho řidičů, a nejen v Česku, skladování nepoužívaných pneumatik nijak významně neřeší, to je ovšem chyba. Se správným skladováním pneumatik totiž můžeme zachovat jejich vlastnosti a významně prodloužit jejich životnost, díky tomu tak v konečné fázi ušetříme i nějaký ten peníz, a že rozhodně není malý.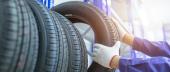 Správná péče je základ
Pneumatiky nejčastěji skladujeme ve sklepě či garáži, ani jedno místo pro ně však není zcela ideální. Hlavními faktory, které ovlivňují vlastnosti pneumatiky, jsou především čistota, teplota a vlhkost.
Mimo to bychom ale také měli brát zřetel na to, v jakém stavu pneumatiky ukládáme. Před uložením by tak měla proběhnout jejich důkladná očista, bohatě nám postačí teplá voda s obyčejným čisticím prostředkem proti mastnotám. Nesmíme je však zapomenout usušit, aby nedocházelo ke korozi ráfků.
Jak pneumatiky ukládat
Pokud ukládáme pneumatiky bez ráfků, dáváme je nastojato. V tomto případě bychom je měli čas od času (ideálně jednou do měsíce) pootočit, aby se měnila část běhounu, na které pneumatika stojí a je tak zatěžována váhou pneumatiky. Toto řešení, kdy opakovaně vyměňujeme pneumatiky na disku, ale není příliš ideální - neustálé shazování pneumatik totiž významně zvyšuje pravděpodobnost poškození patky a negativně tak ovlivňuje délku jejich životnosti.
Pakliže se rozhodneme skladovat celá kola (tzn. včetně ráfku), skládáme je do sloupce. I zde bychom je měli čas od času prohodit, aby k namáhání nedocházelo jen u jedné pneumatiky. Kola ale můžeme také zavěsit. V případě, že skladujete celá kola, byste měli mít přichystány minimálně dvě kompletní sady.
Ideální místo k uložení
Pokud pneumatiky ukládáme ve sklepě či garáži, pak by zde měla být jen mírná teplota (do 15 °C) a měli bychom se vyhnout průvanu a přímému slunečnímu svitu. Kvůli UV záření a ozónu totiž dochází ke změně vlastností a tvrdnutí pneumatik. Kvůli tomu se snižuje bezpečnost a pneumatiky jsou pak náchylnější k tvorbě prasklin. Rovněž bychom je neměli vystavovat povětrnostním vlivům. Pneumatiky by také neměly být uloženy v blízkosti ohně a chemických látek.
Tím nejlepším, co můžete udělat, je uskladnit je v pneuservisu. Pro zákazníky autoservisní sítě BestDrive máme pro tuto službu vyhrazeny ideální prostory, o vaše pneumatiky tak bude výborně postaráno. Cena za uskladnění přitom není nijak zvlášť vysoká a vy máte o starost méně.
Nejlépe 10 let
Pneumatiky nejsou levná záležitost, i přesto bychom je měli po pár letech vyměnit. Nejlépe vám vaše pneumatiky poslouží po dobu 10 let od výroby, po této době by mělo dojít k jejich výměně, a to i v případě dostatečné zbytkové hloubky dezénu. O tom, jak stará vaše pneumatika vlastně je, vás informuje DOT kód, který je na ní umístěn.
DOT kód obsahuje celkem čtyři čísla:
první dvě čísla označují týden výroby,
další dvě čísla označují rok výroby.
Co se starými
Pokud nevíte, kam se starými pneumatikami, máme pro vás dobrou zprávu. Pokud jste je zakoupili v rámci naší sítě BestDrive, rádi je od vás bezplatně odebereme. Pneumatiky pak poslouží dalším účelům, anebo budou na naše náklady zlikvidovány. Díky tomu tak můžeme efektivně šetřit naše životní prostředí.
Pneumatiky nám můžete dovézt na jakoukoli pobočku sítě BestDrive. Jejich seznam naleznete na našich webových stránkách.
Čas přezouvání se blíží
Pokud už netrpělivě vyhlížíte jarní sezónu, patrně taky přemýšlíte nad přezouváním zimních pneumatik za letní. Pakliže jste využili našich služeb uskladnění pneumatik, nezapomeňte si rezervovat termín, který se vám hodí, abychom vám je znovu "nahodili"! O možnosti rezervace termínů budete informováni prostřednictvím naší zvací SMS. Navštivte některou z poboček sítě BestDrive a dejte svým pneumatikám péči, kterou si za svou službu zaslouží!