Tip for you: Did you know that as a member of the BestDrive Club (BDC) you can buy cheaper?
Buy as BDC
Jak se v zimě postarat o podvozek a pneumatiky automobilu?
I podvozek je důležitou součástí automobilu, avšak kvůli tomu, že nejde vidět, na něj při péči mnohdy zapomínáme. To je problém především v zimním období, kdy nejsou silnice zrovna v tom nejlepším stavu. Právě i kvůli horšímu stavu silnic trpí důležité části podvozku jako brzdy, výfuky a tlumiče. To pak vede k většímu opotřebení pneumatik a jejich kratší životnosti. Se zhoršenými jízdními vlastnostmi ale také klesá bezpečnost na silnicích. Pokud si v tomto ohledu sami nejste jisti, jak na tom vaše auto je, přenechte veškerou péči na nás. Stačí si vybrat z nabídky našich služeb.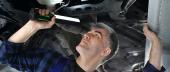 Prevence je základ
Podvozek automobilu můžete ochránit mnoha způsoby, mezi ty nejzákladnější patří zejména:
dávat si pozor na jeho mechanické poškození,
starat se o systém plastových krytů,
jezdit přiměřenou rychlostí a po vhodném terénu,
postřikovat podvozek a dutiny prostředky proti korozi (ideálně každé čtyři roky).
Co na podvozku zkontrolovat
Alespoň první představu o tom, v jakém stavu podvozek auta je, si můžete udělat i pohmatu. Zkontrolovat můžeme např. brzdové kotouče, ruční brzdu, těsnění pístů tlumičů, výfuk a další důležité prvky.
1. Brzdy
Brzdy by se daly snadno označit jako nejdůležitější prvek bezpečnosti vašeho vozidla. Tím nejzákladnějším, co můžeme pro naše brzdy udělat, je kontrola brzdové kapaliny, kterou bychom měli měnit každé dva roky (nařízení většiny výrobců automobilů).
S tím, jak brzdová kapalina stárne, se v ní začíná více a více hromadit voda.To by mohlo při zahřátí brzdového systému anebo jeho částí vést až k dosáhnutí bodu varu této vody a k následné nehodě. Kvůli kontaminaci brzdové kapaliny vodou může dojít k situaci, kdy už nemůže být brzdová kapalina stlačena a váš automobil tak nedokáže brzdit. Brzdová kapalina plní v systému i antikorozní úlohu. Zanedbávání výměny brzdové kapaliny v termínech, které stanovuje výrobce vozidla, může mít za následek poškození a následné selhání brzdového systému. Nechejte si proto brzdovou kapalinu vyměnit v rámci naší autoservisní sítě BestDrive.
Měly by být kontrolovány také samotné brzdy a jejich obložení, hydraulický obvod a kotouče. S tím vám v rámci naší autoservisní sítě BestDrive moc rádi poradíme!
2. Výfuková soustava
Jízdní vlastnosti automobilu závisí do značné míry také na tom, zda pečujeme o jeho výfukovou soustavu. 
To, co její životnost ovlivňuje nejvíce, jsou povětrnostní vlivy. Zima pro ni není příliš vhodným obdobím, zejména pak kvůli vlhkosti a posypové soli. Posypová sůl totiž poškozuje antikorozní ochranu, kterou je výfuková soustava opatřena.
Mezi nejčastější problémy, které výfuk postihují, patří především uvolňování částic rzi v tlumicí soustavě, opotřebení katalyzátoru, v případě dieselových motorů také zanesení filtru pevných částic nebo různé netěsnosti.
3. Tlumiče
Jistou zárukou bezpečnosti na silnici jsou také funkční tlumiče, díky kterým se auto při nerovnostech terénu nehoupe ze strany na stranu. 
Problémem je u této součásti podvozku to, že její nevyhovující stav nepoznáte ihned. Mnoho řidičů tedy vlastně ani neví, že jsou jejich tlumiče ve špatné kondici. V zimě jsou k opotřebení mnohem náchylnější, zejména kvůli vlhkosti, soli a nečistotám na silnici. Mimo jiné můžete vadné tlumiče poznat skrze nerovnoměrné opotřebení pneumatiky.
Špatný stav tlumičů s sebou přináší i delší brzdnou dráhu, velmi často je také viníkem při aquaplaningu.
Pakliže jsou tlumiče nevhodné pro další jízdu, dochází k jejich výměně, kterou se v rámci našich služeb rovněž zabýváme. Za nové přitom nedáte žádnou závratnou částku. Problém by mohl nastat pouze v případě, kdy sháníte některý "speciální" druh, který již není běžně k dostání.
Péče o automobil může být někdy docela "věda", my se vám o něj postaráme rychle, kvalitně a za přívětivé ceny. Stačí si vybrat z nabídky našich služeb.