Tip for you: Did you know that as a member of the BestDrive Club (BDC) you can buy cheaper?
Buy as BDC
5 tipů, jak připravit auto na prodej
Prodej auta není nic složitého. Existuje ale několik tipů, jak to jde rychleji a za vyšší cenu. Poradíme vám, co vyžaduje generální úklid vozidla, oprava drobných i větších poruch a přehledná historie. Přečtěte si 5 rad, jak připravit auto na úspěšný prodej.
Základem je generální úklid
Na prvním dojmu záleží a je třeba se na něj řádně připravit. Mytí auta před prodejem je téměř samozřejmostí. Otázkou ale je, co všechno připravit a jestli stačí automyčka.
Myčka v tomto případě nezachrání všechno. Důkladné ruční umytí a vyčištění automobilu udělá dobrý první dojem a vy získáte u kupujícího plusové body. Úklid interiéru i exteriéru můžete nechat na profesionály, nebo to vzít do vlastních rukou.
Pořádně vyčistěte celou karoserii, podběhy, kufr, sedačky, koberečky a nezapomeňte na pořádek pod kapotou. Jak na ruční mytí vozidla, motoru nebo klimatizace se dočtete v našem dubnovém článku.
Zvyšte hodnotu opravami
Opravy před prodejem je sporné téma. Na jednu stranu nechcete za auto na prodej příliš utrácet. Na druhé straně mohou i drobné poruchy ovlivnit, jestli vám kupující řekne své ano. Do čeho se tedy pustit, a co se už nevyplatí?
Rozhodně opravte vše, co souvisí s chodem motoru, startováním a jízdními vlastnostmi. Kupující nesmí zapochybovat, jestli jste náhodou něco nepodcenili. Nikdo nechce s nově koupeným autem skončit u mechanika. V článku Co dělat, aby vaše auto neztrácelo hodnotu? vám poradíme, jak zvýšit prodejní cenu vašeho vozidla.
Vyplatí se investovat i do drobných poruch, jako jsou například vzpěry pátých dveří. Kupujícímu nebude příjemné, když ho bouchnou do hlavy. Pokud se vám nebude chtít do oprav, poraďte. Doporučte novému majiteli, kde vzpěry koupit a nasměrujte jej do správného obchodu.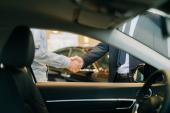 Doložte správnou dokumentaci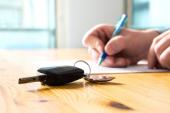 Detailní popis technického stavu vozidla by měl být součástí smlouvy, protože jako prodávající máte zodpovědnost za skryté vady v době prodeje. Do popisu inzerátu stav napište také. Stačí stručně, věcně, ale nic podstatného nezatajovat.
Dalším důležitým bodem správné dokumentace je nájezd auta a jeho historie. Neprodávejte stočené kilometry. Naopak si dejte práci se servisní knížkou, doložte faktury za opravy i protokoly od STK nebo emisních kontrol.
Naše nová aplikace Klub BestDrive vám pomůže s doložením dokumentace. Naleznete v ní záznamy realizovaných servisních úkonů v síti BestDrive.
Věnujte chvíli fotodokumentaci
Řádnou fotodokumentací vozidla si pomůžete k rychlejšímu prodeji. Staňte se na chvilku profesionálním fotografem. Vyfoťte auto z různých úhlů i vzdáleností. Dejte si pozor na rušivé pozadí a kvalitu fotek. Zaznamenejte exteriér i interiér a pro ještě větší důvěryhodnost přidejte lístek s nabídkou k prodeji přímo na vozidlo. Zvýšíte tak šanci na úspěšný prodej.
Zajděte si na servisní prohlídku
Servisní prohlídka před samotným prodejem je důležitá. Zjistíte tak vše potřebné, odhalíte případné vady a novému majiteli předáte bezpečné auto.
Na pobočkách BestDrive zkontrolujeme vybrané i nejpoužívanější části vozidla a provedeme kompletní bezpečnostní kontrolu stavu vašeho vozidla. Prohlédneme důležité části vozu. Pokud najdeme závadu, rádi vám připravíme nabídku na její odstranění. Zároveň se postaráme o řádný zápis do servisní knížky, a vy tak získáte reálný přehled o stavu vašeho auta.
Na servisní prohlídku se objednáte online. Stačí pár kliknutí.