Tip for you: Did you know that as a member of the BestDrive Club (BDC) you can buy cheaper?
Buy as BDC
Jak ručně umýt auto
Zimní měsíce jsou konečně za námi a s prvními jarními dny přichází čas na pořádný úklid. Ten se týká vašeho vozu, které pravidelnou údržbu i generální úklid potřebuje. Jak se postarat o exteriér, interiér, motor i klimatizaci vám poradíme na následujících řádcích.
Podvozek a kola
Při mytí auta začínejte podvozkem a koly. Tyto části jsou vždy ta nejšpinavější místa. Drží se na nich největší špína jako je bahno, které by se později mohlo nechtěně zanést na už čistou karoserii.
Na kola s podvozkem používejte tlakové myčky nebo klidně zahradní hadice s vysokotlakovou vodní pistolí. Potřebujete dostatečně silný tlak, abyste rozmočili a odstranili zaschlé nečistoty.
Karoserie
Na karoserii si taky vemte tlakovou myčku nebo hadici. Nejjednodušší je začít shora a pokračovat postupně dolů. Předem se ujistěte, že máte dobře zavřená okna i zvednuté stěrače.
Při mytí se vyhněte kuchyňským houbám nebo hadrem. Raději použijte mycí rukavice z mikrovláken, které absorbují zrníčka nečistot. Takže se nestane, že je rozetřete po povrchu auta.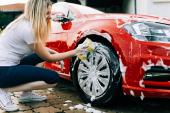 Čištění motoru
Čištění motoru se nemusíte zaleknout. Zvládne to i neprofesionál. Základním pravidlem je studený motor. Opláchněte jej čistou vodou, nejlépe menším tlakem, a poté použijte čistič motoru. Než se do usazenin pustíte s kartáčkem nebo štětcem, nechte přípravek pár minut působit. Následně útroby motoru znovu opláchněte vodou a nechte pořádně vyschnout.
Čištění disků
Na disky nastříkáme speciální prostředek bez kyseliny. Čistič disků s kyselinou použijte v případě, kdy jsou disky hodně špinavé a zůstávají na nich černé fleky nebo žluté mapy. Pamatujte ale, že kyselina je žíravina a jde o agresivní metodu čištění. Postupujte přesně podle návodu.
Zároveň doporučujeme se vyhnout aplikaci čisticího prostředku s kyselinou na nová lití kola. Můžete tak poškodit svrchní lakované vrstvy.
Oživení plastů a péče o povrchy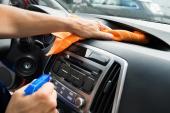 Na oživení plastů v interiéru a ošetření gumových i kožených částí auta potřebujete vhodný prostředek. Pozorně si přečtěte instrukce na obalu, ale obecný postup je jednoduchý. Prostředek nanesete na povrch, důkladně ho rozetřete a zbytky prostředku přejedete utěrkou z mikrovláken.
Stejným způsobem vyčistěte kožené povrchy, volant i potahy sedaček. Na gumová těsnění zvolte nanosilikonové mazivo. To těsnění ochraňuje, zabraňuje prasklinám a obnovuje jeho vzhled.
Starost o textilní autosedačky
Na čištění textilních sedaček potřebujete kvalitní čistič na čalounění. Pak se společně s extraktorem, speciálním vysavačem na tepování, postaráte o vše špinavé. Na sedačky nastříkáte textilní čistič, vetřete ho kartáčkem, necháte působit a následně ošetřená místa vysajete. Pokud čistící roztok smícháte předem s horkou vodou, můžete použít vodní vysavač.
Druhá možnost je pracnější, ale obejdete se bez vysavače. Na špinavé místo aplikujete malé množství čističe. Nesmí se moc vsáknout do sedačky. Čistým kartáčkem prostředek vetřete a utěrkou z mikrovláken následně setřete. Tento postup opakujete tak dlouho, jak budete potřebovat. Na konci čištění nechte sedačky řádně vyschnout.
Péče o kůži
Kůže vyžaduje speciální péči i správné zacházení. Jinak vám nevydrží pružná a pevná. Během údržby se vyhněte předmáčení, jaru, páry, suchému ledu, keramické ochraně a nesprávným čistícím prostředkům. Textil a kůže totiž není to samé. Dejte si záležet na výběru toho správného čističe a dodržujte jeho způsob použití.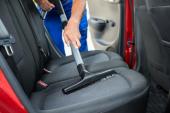 Eliminace zápachu z klimatizace
Prvním krokem při zbavování auta zápachu je vyčištění a dezinfekce klimatizace. Základem je výměna kabinového filtru a vyčištění generátorem ozonu. Další variantou jsou různé dezinfekční spreje. Ty ale klimatizaci nezachrání, spíše zabraňují tvorbě zápachu. Sprej se používá za nejnižší teploty klimatizace a nejvyšší rychlosti ventilace.
Nejjednodušším řešením pro řádný úklid je pomoc od profesionálů. V BestDrive pobočkách se vám rádi postaráme o vyčištění interiéru, exteriéru i dezinfekci klimatizace. Stačí si vybrat servis a přijet k nám.