Tip for you: Did you know that as a member of the BestDrive Club (BDC) you can buy cheaper?
Buy as BDC
BestDrive: Vzděláváme s podporou EU
Naší společnosti byla v září tohoto roku poskytnuta podpora ze strany Evropského sociální fondu a Státního rozpočtu ČR v oblasti vzdělávání.
V projektu s názvem "Vzdělávání zaměstnanců pro zvýšení kvality v BestDrive", který potrvá až do srpna 2022 je naším cílem zvýšit úroveň znalostí, dovedností a zejména klíčových kompetencí našich zaměstnanců. Tyto jsme vybírali na základě vyhodnocení vzdělávacích potřeb, abychom zajistili zvýšení jejich profesních znalostí a dovedností podle jejich pracovní náplně. Do projektu bude zapojeno celkem 325 osob.
Zaměstnanci se zapojí do projektu formou vzdělávání v těchto oblastech:
Měkké a manažerské dovednosti
Technické a jiné odborné vzdělávání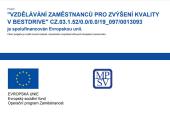 Na kvalifikaci našich zaměstnanců nám záleží, proto jsme rádi, že můžeme využít tento projekt na vzdělání zaměstnanců.
BestDrive je největší síť pneuservisů a autoservisů v České republice a na Slovensku. Provozovatelem sítě je v České republice ContiTrade Services s. r. o., na Slovensku ContiTrade Slovakia s.r.o., obě společnosti patří do koncernu Continental. Jednotný koncept servisní sítě BestDrive se 187 pobočkami umožňuje pokrýt nabídkou profesionálních pneuservisních a autoservisních služeb území obou států. Komplexní nabídku zboží a služeb mohou využívat i zákazníci preferující online objednávání z pohodlí domova přes www.bestdrive.cz nebo www.bestdrive.sk. Jako největší poskytovatel komplexní služby motoristům se servisy BestDrive snaží nadstandardním způsobem naplňovat očekávání svých zákazníků v duchu firemního motta: Vy jezdíte, my se staráme / You drive, we care.