Tip for you: Did you know that as a member of the BestDrive Club (BDC) you can buy cheaper?
Buy as BDC
BestDrive: Pneuservis pro motorky nově v naší síti
Pneuservisní a autoservisní síť BestDrive rozšiřuje své portfolio služeb. Nově mohou zákazníci na vybraných pobočkách využít i plnohodnotný pneuservis motocyklů. Na zatím 7 pobočkách sítě BestDrive profesionálně vyškolení mechanici provedou kompletní výměnu moto-plášťů včetně demontáže kol.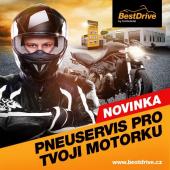 Výměna zahrnuje demontáž a montáž kola z motocyklu, pneumatik na disku a případné vyvážení. Možná je i výměna pneumatik na přineseném, již demontovaném kole z motocyklu. Tyto služby nabízí pobočky Brno Ivanovice, Karlovy Vary, Olomouc, Ostrava Heřmanice, Plzeň Zátiší, Praha Smíchov a Svitavy. Zbylé pobočky v síti nabízejí pouze přezutí na demontovaných kolech. Ostatní pobočky v síti nabízejí pouze přezutí na demontovaných kolech.
Servisní mechanici spolu s prodejním personálem v síti BestDrive se pravidelně vzdělávají. "Proškolení pracovníků na službu motopneuservisu proběhlo ve spolupráci s automobilní školou ISŠA Brno, která jako jediná v České republice vyučuje i obor opravář motocyklů. Jsou tak dokonale připraveni jak na prezentaci nabídky sortimentu, tak na odborně provedenou práci", uvádí Milan Vávra, servisní kouč sítě BestDrive.
Předností poboček sítě BestDrive není jen v odbornosti personálu, ale také ve strojním vybavení a nářadí. Všech 7 poboček, které nabízí službu motopneuservisu, byly vybaveny nářadím od firmy Larsson Czech s.r.o., která se specializuje na prodej kompletního vybavení pro opravu a servis motocyklů. 
"Na těchto 7 pobočkách, které v současné době nabízí kompletní službu motopneuservisu, plánujeme i rozšíření na pravidelný moto servis, jehož součástí bude i výměna oleje, filtrů apod.", dodává Milan Vávra. 
Výhoda servisní sítě BestDrive oproti konkurenci je ve spojení s koncernem Continental AG, jednoho z největších automotive výrobců na světě. BestDrive je maloobchodní součástí koncernu Continental. Síť BestDrive tak těží výhody z přímé dostupnosti zdrojů (náhradní díly na podvozky, motory, pneumatiky atd), ale také z expertízy a know-how přímo od výrobce. Motopláště značky Continental patří mezi světovou špičku. Jejich odborná montáž v servisech BestDrive se nabízí jako ideální propojení produktu a servisu.
BestDrive je největší síť pneuservisů a autoservisů v České republice a na Slovensku. Provozovatelem sítě je v České republice ContiTrade Services s. r. o., na Slovensku ContiTrade Slovakia s.r.o., obě společnosti patří do koncernu Continental. Jednotný koncept servisní sítě BestDrive se 182 pobočkami umožňuje pokrýt nabídkou profesionálních pneuservisních a autoservisních služeb území obou států. Komplexní nabídku zboží a služeb mohou využívat i zákazníci preferující online objednávání z pohodlí domova přes www.bestdrive.cz nebo www.bestdrive.sk. Jako největší poskytovatel komplexní služby motoristům se servisy BestDrive snaží nadstandardním způsobem naplňovat očekávání svých zákazníků v duchu firemního motta: Vy jezdíte, my se staráme / You drive, we care.