Tip for you: Did you know that as a member of the BestDrive Club (BDC) you can buy cheaper?
Buy as BDC
BestDrive: Nový ředitel společnosti
S platností od 1. ledna 2021 se stal Petr Sedláček novým ředitelem servisní sítě BestDrive v České republice a na Slovensku. Na obchodních manažerských pozicích v koncernu Continental působí už víc jak 14 let. Mezi jeho hlavní priority bude především navázat na rozvoj služeb pro motoristy a pokračovat v dalším rozšiřování franšízové sítě.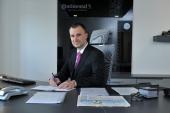 Posledních 10 let byl Petr Sedláček zodpovědný za rozvoj obchodních aktivit koncernu Continental v CVT segmentu na Českém a Slovenském trhu. Předtím působil také na funkci regionálního manažera servisní sítě BestDrive. Od roku 1996 zastával obchodní a manažerské pozice ve společnosti Obnova Brno a.s., respektive Matador Česká republika s.r.o.
BestDrive je největší síť pneuservisů a autoservisů v České republice a na Slovensku. Provozovatelem sítě je v České republice ContiTrade Services s. r. o., na Slovensku ContiTrade Slovakia s.r.o., obě společnosti patří do koncernu Continental. Jednotný koncept servisní sítě BestDrive se 187 pobočkami umožňuje pokrýt nabídkou profesionálních pneuservisních a autoservisních služeb území obou států. Komplexní nabídku zboží a služeb mohou využívat i zákazníci preferující online objednávání z pohodlí domova přes www.bestdrive.cz nebo www.bestdrive.sk. Jako největší poskytovatel komplexní služby motoristům se servisy BestDrive snaží nadstandardním způsobem naplňovat očekávání svých zákazníků v duchu firemního motta: Vy jezdíte, my se staráme / You drive, we care.