Tip for you: Did you know that as a member of the BestDrive Club (BDC) you can buy cheaper?
Buy as BDC
BestDrive: Nový pořad servisní sítě - SPRÁVNÝ DRIVE – druhý díl zaměřený na Horko v autě!
V průběhu měsíce dubna zveřejnila servisní síť BestDrive první díl svého nového pořadu Správný Drive! Ten se zabýval hojně diskutovaným tématem – dezinfekce vozidla. Nyní přichází již s druhým dílem tohoto "servisního rádce", který přináší řidičům několik tipů a rad, jak se bránit vysokým teplotám ve vozidle. Samozřejmě nejúčinnější způsob je mít plně funkční klimatizaci.
Dnes už je klimatizace docela standardní součástí vybavení automobilů. Nebylo tomu tak ale vždy, a ještě před několika málo lety byla klimatizace "luxusem za příplatek". Vůbec první klimatizaci přitom světu přinesl Willis Carrier již v roce 1902. Ta sloužila tiskárně z New Yorku pro rychlejší usychání barev..
Správné používání klimatizace
I když je venku vedro k zbláznění, teplota v autě by se měla lišit vždy maximálně o 5 °C. Ideálně byste si pak měli v autě udržovat teplotu okolo 20-24 °C. Minimálně pět minut předtím, než dojedete do cíle, byste měli klimatizaci vypnout, aby si vaše tělo opět zvyklo na teplotu okolí a mohlo dojít proudícím vzduchem k vysušení výparníku, čímž zabráníte vzniku plísní a bakterií. Zároveň byste měli, aby se předešlo nemocem, pouštět studený vzduch na čelní sklo automobilu – rozhodně ne přímo na tělo!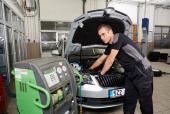 Klimatizace není bezúdržbový systém, stejně jako celé vozidlo potřebuje pravidelnou údržbu a servis. Pravidelnou dezinfekcí klimatizace a výměnou kabinového filtru předejdete vzniku a šíření choroboplodných organismů. Špatně udržovaná klimatizace může vést až ke vzniku bolestí hlavy, angíny, astmatu a mnoha dalších nemocí. Jen správně udržovaná a funkční klimatizace může zvyšovat pohodu řidiče a jeho spolucestujících a vede tak k bezpečnějšímu provozu. 
O dezinfekci klimatizace se vám profesionálně postaráme i v naší servisní síti BestDrive. Odborníci doporučují, abyste tuto dezinfekci podstoupili alespoň dvakrát ročně.
Klimatizace umíme i servisovat a samotné kontroly by měly být prováděny alespoň jednou ročně. Během tohoto pravidelného servisu dojde především k doplnění chladicího média na správnou hodnotu, vyčištění a odvlhčení systému, a hlavně k výměně oleje v kompresoru, což je nezbytně nutné pro jeho dlouhý a bezporuchový provoz. 
Na to, zda je klimatizace v provozuschopném a bezpečném stavu, byste neměli myslet jen před odjezdem na letní dovolenou, ale v pravidelných intervalech. Využijte komplexní servisní péče autoservisní sítě BestDrive a buďte na silnicích v pohodě a klidu. Léto se blíží, starosti přenechte nám.
BestDrive je největší síť pneuservisů a autoservisů v České republice a na Slovensku. Provozovatelem sítě je v České republice ContiTrade Services s. r. o., na Slovensku ContiTrade Slovakia s.r.o., obě společnosti patří do koncernu Continental. Jednotný koncept servisní sítě BestDrive se 188 pobočkami umožňuje pokrýt nabídkou profesionálních pneuservisních a autoservisních služeb území obou států. Komplexní nabídku zboží a služeb mohou využívat i zákazníci preferující online objednávání z pohodlí domova přes www.bestdrive.cz nebo www.bestdrive.sk. Jako největší poskytovatel komplexní služby motoristům se servisy BestDrive snaží nadstandardním způsobem naplňovat očekávání svých zákazníků v duchu firemního motta: Vy jezdíte, my se staráme / You drive, we care.