Tip for you: Did you know that as a member of the BestDrive Club (BDC) you can buy cheaper?
Buy as BDC
BestDrive: Komplexní online řešení s řadou výhod v ČR i SR
E-shopy bestdrive.cz a bestdrive.sk provozuje servisní síť BestDrive již několik let. Za tu dobu několikrát modernizovali a upravovali jeho obsah i nabídku tak, aby odpovídala trendům trhu a požadavkům zákazníků. Nyní připravili zcela nové, moderní stránky s e-shopy, které vycházejí z celoevropského řešení maloobchodní sítě Continental a které otevírají jak servisní síti, tak zákazníkům nové možnosti.
E-shopů s pneumatikami jsou na českém a slovenském trhu stovky a většina z nich nabízí pouze zboží bez dodatečných služeb. Jejich zákazník musí při nákupu počítat i s určitou hladinou nepohodlí – musí čekat, až dopravce objednané zboží dodá na udanou adresu, musí si sehnat pneuservis, který pneumatiky namontuje a také musí nové pneumatiky do servisu dovézt.
"V poslední době zaznamenáváme trend, kdy zákazník již nehledá na internetu jen produkt s nízkou cenou, ale hledá komplexní a komfortní řešení. Na rozdíl od konkurentů nenabízíme pouze e-shop s výběrem produktů, ale stojí za ním i široká síť téměř 190 poboček po celé České a Slovenské republice s reálnými skladovými zásobami pneumatik i autodoplňků. Svým zákazníkům nabízíme celou řadu výhod – od atraktivních cen zboží a služeb až třeba po možnost objednat se na servis online. Nabízíme tak komplexní řešení, kdy si kromě produktu může zákazník zvolit servis, ať už pneuservis nebo autoservis, a to vše ve vybrané pobočce a ve zvoleném čase", uvádí Richard Velísek, marketingový ředitel.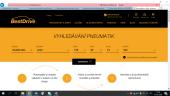 Samozřejmostí je také systém geolokace, který vyhledá zákazníkovi nejbližší prodejnu, nebo si ji zákazník zvolí sám. Pak už si jen vybere mezi třemi možnosti objednání – pouze zboží, zboží a služby nebo pouze služby. Zákazník si může vybrat z široké nabídky pneumatik, zejména ve značkách mateřského koncernu Continental – Continental, Uniroyal, Semperit, Barum, Matador a také samozřejmě vlastní značky BestDrive. Ze služeb si zákazník může zvolit nejen pneuservis, ale také například kontrolu a seřízení geometrie, servisní prohlídku nebo výměnu oleje. Dalším benefitem pro zákazníky je i tzv. BestDrive Garance, která nabízí komplexní ochranu proti neopravitelnému poškození pneumatiky.
"Speciální modul tvoří např. sezónní výměna pneumatik pro ty zákazníky, kteří u nás mají uskladněná kola/komplety. V průběhu objednávání systém rozpozná, na které pobočce má zákazník kola uložená, a navíc jej upozorní na vhodnost výměny pneumatik, ať už vlivem nadměrného opotřebení uložených pneumatik nebo vlivem jejich případného poškození. Samozřejmostí je aktivní komunikace se zákazníkem, od automatického potvrzení objednávky, možnost změny termínu až po připomenutí servisu den předem. Tato služba se nám osvědčila i u kamenných prodejen, kdy zákazníkovi den před jeho objednaným servisem posíláme sms upozornění, že je objednán na servis", dodává Richard Velísek.  
"Do budoucna plánujeme další rozšíření systému, jako je například dodávka zboží domů. Avšak naší ambicí je zaměřovat se na tzv. bricks and clicks, kdy zákazník si online v teple domova vybere zboží a služby a my se o něj v kamenné prodejně postaráme v termínu, který si sám vybral", uzavírá Richard Velísek. 
BestDrive je největší síť pneuservisů a autoservisů v České republice a na Slovensku. Provozovatelem sítě je v České republice ContiTrade Services s. r. o., na Slovensku ContiTrade Slovakia s.r.o., obě společnosti patří do koncernu Continental. Jednotný koncept servisní sítě BestDrive se 188 pobočkami umožňuje pokrýt nabídkou profesionálních pneuservisních a autoservisních služeb území obou států. Komplexní nabídku zboží a služeb mohou využívat i zákazníci preferující online objednávání z pohodlí domova přes www.bestdrive.cz nebo www.bestdrive.sk. Jako největší poskytovatel komplexní služby motoristům se servisy BestDrive snaží nadstandardním způsobem naplňovat očekávání svých zákazníků v duchu firemního motta: Vy jezdíte, my se staráme / You drive, we care.