Tip for you: Did you know that as a member of the BestDrive Club (BDC) you can buy cheaper?
Buy as BDC
BestDrive: Jak na dezinfekci interiéru vozidla
V této nelehké době bychom mimo nošení roušek a důkladného umývání rukou neměli zapomínat ani na čištění předmětů, se kterými denně přicházíme do kontaktu. Kromě mobilního telefonu, klíčů, či peněženky je takovým předmětem i auto. Připravili jsme si pro vás pár tipů a rad, jak se účinně postarat o dezinfekci interiéru vozidla, tak, abyste chránili zdraví nejen svoje, ale i ostatních.
Základní a nejdůležitější dezinfekci interiéru si můžete udělat sami.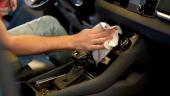 Stačí mít standardní tekutou dezinfekci na bázi alkoholu. Naneste dezinfekci na hadřík a potřete všechny části interiéru, kterých se dotýkáte vy, jako řidič rukama. Potom, co odhodíte znečištěnou utěrku do koše, si opravdu důkladně umyjte a případně vydezinfikujte vaše ruce. 
Ozón je nejdokonalejším dezinfekčním činidlem.
Neexistují žádné virusy, bakterie ani plísně, které by mu odolaly. Po aplikaci ozón nezanechává žádné stopy a nezpůsobuje žádné alergické nebo dýchací problémy, které můžou vytvářet chemické dezinfekční prostředky. Má vysokou účinnost, dostane se na místa, kde běžné sprejové dezinfekce nemají šanci. Navíc je schopný odstranit i těžko identifikovatelné zdroje zápachu, např. po cigaretách.
Přesný postup, jak vydezinfikovat interiér vozidla vám ve videu ukáže Martin.
Jezděte s jistotou, že dýcháte opravdu čistý vzduch a chraňte své zdraví i zdraví spolucestujících! Pokud si však dezinfekcí vozidla nechcete lámat hlavu, přijeďte k nám do jakékoliv pobočky BestDrive a my se už o to postaráme! 
BestDrive je největší síť pneuservisů a autoservisů v České republice a na Slovensku. Provozovatelem sítě je v České republice ContiTrade Services s. r. o., na Slovensku ContiTrade Slovakia s.r.o., obě společnosti patří do koncernu Continental. Jednotný koncept servisní sítě BestDrive se 188 pobočkami umožňuje pokrýt nabídkou profesionálních pneuservisních a autoservisních služeb území obou států. Komplexní nabídku zboží a služeb mohou využívat i zákazníci preferující online objednávání z pohodlí domova přes www.bestdrive.cz nebo www.bestdrive.sk. Jako největší poskytovatel komplexní služby motoristům se servisy BestDrive snaží nadstandardním způsobem naplňovat očekávání svých zákazníků v duchu firemního motta: Vy jezdíte, my se staráme / You drive, we care.