Tip for you: Did you know that as a member of the BestDrive Club (BDC) you can buy cheaper?
Buy as BDC
BESTDRIVE: Baterie Continental nově v servisní síti BestDrive
Servisní síť BestDrive, patřící do koncernu Continental, zařadila do svého prodejního sortimentu prémiové autobaterie v kvalitě OEM značky Continental. V kompletní nabídce naleznete jak baterie vybavené moderními EFB a AGM technologiemi vhodnými pro Start-stop systémy, ale také spolehlivé startovací baterie s technologií olověného článku.
Produktové spektrum zahrnuje devět baterií pro moderní vozidla vybavená Start-Stop systémy a deset startovacích baterií, určené pro široké použití ve vozidlech bez systému Start-Stop. Těchto 19 různých baterií pokrývá segment 75 % evropského vozového parku. Každá jednotlivá baterie odpovídá OEM kvalitě a je vyráběna v Evropě. Mezi hlavní výhody baterií Continental patří prémiový výkon, vysoká kapacita a spolehlivost v extrémních teplotách.
Start-Stop baterie se mohou pyšnit nepřekonatelným výkonem a vytrvalostí jež potvrdili nezávislé testy v Německu. U bezúdržbových baterií EFB používá Continental vložku ze skelných vláken a jsou určeny speciálně pro vozidla se základním systémem Start-Stop. Zajišťují tak optimální výkon během studených startů a jejich nízký odpor umožňuje rychlé nabíjení a vybíjení.
Výhodou těchto baterií je dlouhá životnost, o 20% nižší spotřeba energie a snížení tvorby emisí skleníkových plynů. Samozřejmostí je vysoká bezpečnost v provozu.
AGM baterie je optimálním řešením pro všechna současná moderní vozidla se systémem Start-Stop a také pro vozidla luxusních tříd. Tento typ akumulátorů je vhodný pro náročné klimatické podmínky. Pyšní se dlouhou životností s až 3x vyšší cyklickou stabilitou ve srovnání s konvenčními bateriemi. Díky své vysoké nabíjecí schopnosti jsou tyto baterie schopny absorbovat vyšší napětí, které je vytvářeno během brzdění a decelerace, a tímto způsobem tak rekuperovat vzniklou energii.
Dalším typem baterií jsou olověné Continental startovací baterie, které jsou ideální pro benzinová i naftová vozidla bez Start-Stop systému. Samotný vývoj baterií byl zaměřen na nízké nároky na údržbu a dlouhou životnost, a to i v náročných klimatických a povětrnostních podmínkách.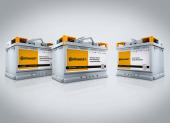 Při výběru baterií Continental nabízíme špičkovou kvalitu, baterie vyráběné moderními postupy vhodné pro většinu evropského vozového parku, ale i prodlouženou záruční dobu na dva roky. Díky nejmodernějším výrobním procesům poskytují baterie Continental bezkonkurenční výkon s jednou až třikrát vyšší cyklickou stabilitou.
Pokud si chcete být jistí, že nastartujete vůz v zimě i za nízkých teplot, případně máte pochybnosti o stavu autobaterie ve svém voze, nechte ji raději proměřit, případně vyměnit. Prohlídkou by měl rovnou projít celý dobíjecí systém vozidla. U nás v síti BestDrive se můžete spolehnout, že kontrola bude vykonaná rychle a odborně.
Vy jezdíte, my se staráme.
BestDrive je největší síť pneuservisů a autoservisů v České republice a na Slovensku. Provozovatelem sítě je v České republice ContiTrade Services s. r. o., na Slovensku ContiTrade Slovakia s.r.o., obě společnosti patří do koncernu Continental. Jednotný koncept servisní sítě BestDrive se 187 pobočkami umožňuje pokrýt nabídkou profesionálních pneuservisních a autoservisních služeb území obou států. Komplexní nabídku zboží a služeb mohou využívat i zákazníci preferující online objednávání z pohodlí domova přes www.bestdrive.cz nebo www.bestdrive.sk. Jako největší poskytovatel komplexní služby motoristům se servisy BestDrive snaží nadstandardním způsobem naplňovat očekávání svých zákazníků v duchu firemního motta: Vy jezdíte, my se staráme / You drive, we care.