Tip for you: Did you know that as a member of the BestDrive Club (BDC) you can buy cheaper?
Buy as BDC
Geometrie - Změření/Kontrola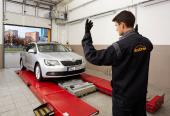 Kontrolu/měření provádíme na moderních měřících zařízeních. Používáme elektronické CCD senzorové nebo 3D kamerové zařízení s indikací naměřených hodnot, včetně prostorové grafiky. Naměřené hodnoty jsou porovnávány s hodnotami dodanými výrobci vozidel pro jednotlivé modely. Výstupem měření je záznam naměřených hodnot z tiskárny, která je součástí zařízení. Zjištěné odchylky vám mohou naši mechanici okamžitě seřídit. Podle typu podvozku se seřizuje jedna nebo obě osy (přední, zadní). Jsme vybaveni i speciálními sklonoměry pro seřizování podvozků vozidel značky Mercedes-Benz.
Cena případného seřízení geometrie kol není zahrnuta v ceně služby a účtuje se samostatnými položkami na základě rozsahu provedeného seřízení.
K provedené službě Vám může být doúčtována použitá montážní chemie (např.: čistič brzd, maziva, apod.), spojovací materiál, případně jiné nutné technické prostředky.
Potřebujete geometrii nejen zkontrolovat, ale i seřídit. Využijte:
Chcete zároveň i otestovat autobaterii? Využijte:
CO SE U GEOMETRIE KOL ZJIŠŤUJE?
Odklon (příklon) kola – Podle změřené osy kola zjistí, zdali jsou kola kolmo k vozovce. Odklon kol (z předního nebo zadního pohledu na vůz jsou kola do "A") způsobuje například opotřebení pneu na vnitřní straně a náchylnost vozu na boční vítr. Příklon (kola do "V") má vliv na opotřebení pneu z vnější strany a způsobuje poskakování vozu.
Záklon rejdového čipu – Zajišťuje schopnost automatického centrování řízení (volant se vrací zpět do polohy pro přímý směr jízdy). Záklon je udáván úhlem, který svírá osa procházející středy horního a dolního kulového čepu ke kolmé ose vozidla. Nesprávný úhel záklonu zhoršuje stabilitu vozu při jízdě v přímém směru a brání volantu v návratu do výchozí polohy.
Sbíhavost – Kola mají být nastavena tak, aby byla rovnoběžná s podélnou osou vozu. V případě, že přední část kola směřuje k podélné ose vozu, jedná se o kladnou sbíhavost, v opačném případě o zápornou sbíhavost. Kladná i záporná sbíhavost je někdy žádoucí – záleží na konstrukci pohonu kol a doporučení výrobce.
Proměnná sbíhavost – Nastavení správné sbíhavosti má vliv i na tzv. proměnnou sbíhavost. Proměnná sbíhavost se projevuje při propružení nápravy, například při přejíždění nerovností nebo při prudkém brždění. V případě špatně nastavené proměnné sbíhavosti mohou vozidla měnit svou stopu, která nekoresponduje se směrem vozu.
Pokud máte pocit, že máte při jízdě s Vaším vozidlem problémy.  Zastavte se v našich vybraných servisech a nechte si geometrii zkontrolovat a seřídit.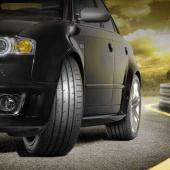 Rating Count: 0 Average Rating: 0