Tip for you: Did you know that as a member of the BestDrive Club (BDC) you can buy cheaper?
Buy as BDC
Objednej se na přezutí online a získej bonus

Využijte možnost pohodlného online objednání na přezutí a získejte bonus v podobě slevového kupónu na autoservis.
Zákazníci, kteří si u nás objednají přezutí online, obdrží na pobočce slevové kupóny na autoservisní služby.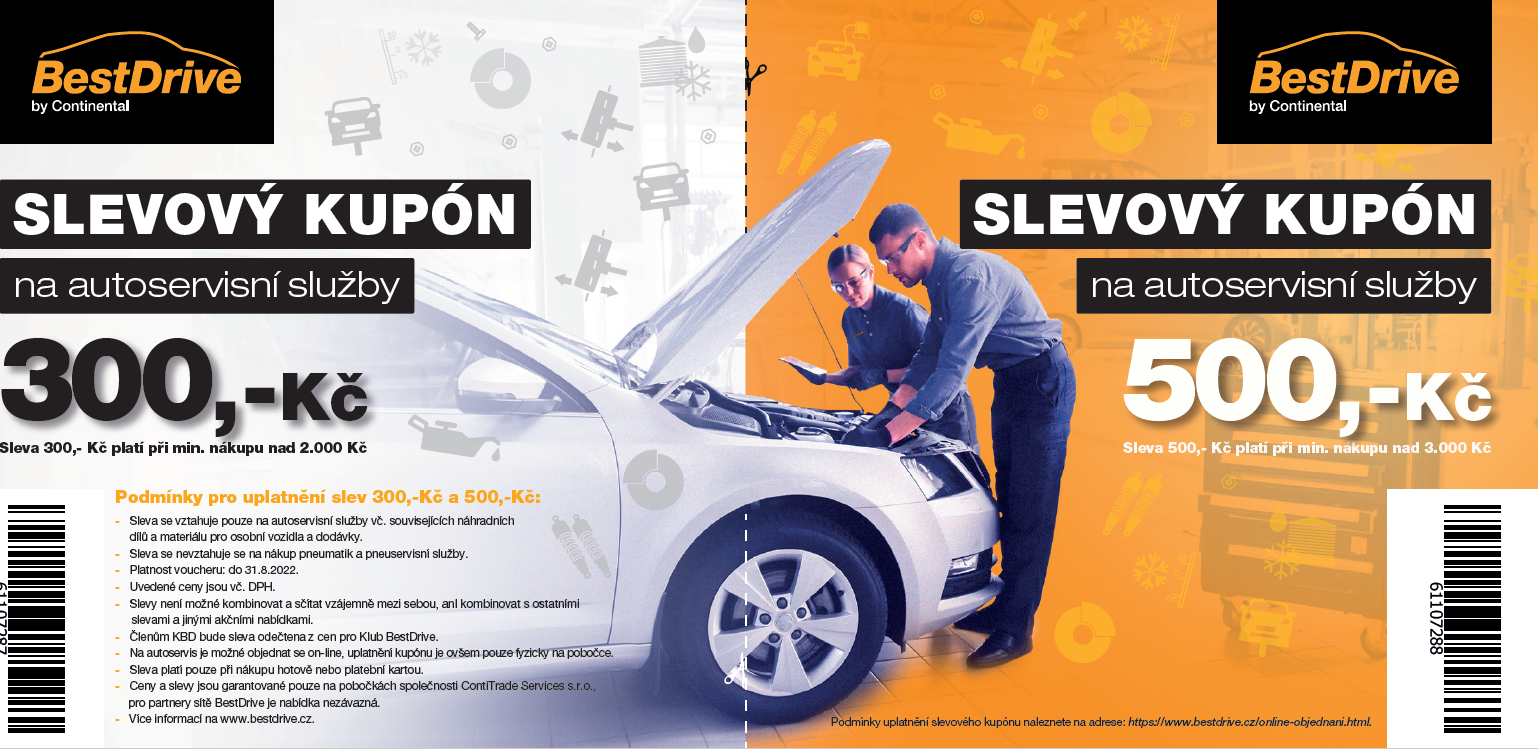 Podmínky pro uplatnění slevových kupónů:
Voucher na 300 Kč a 500 Kč obdržíte na pobočce při přezutí.
Sleva 300 Kč při min. nákupu 2.000 Kč a sleva 500 Kč při min. nákupu 3.000 Kč v BestDrive,
Sleva se vztahuje pouze na autoservisní služby vč. souvisejících náhradních dílů a materiálu pro osobní vozidla a dodávky.
Sleva se nevztahuje se na nákup pneumatik a pneuservisní služby.
Platnost voucheru je do 31.8.2022.
Uvedené ceny jsou vč. DPH.
Slevy není možné kombinovat a sčítat vzájemně mezi sebou, ani kombinovat s ostatními slevami a jinými akčními nabídkami.
Členům KBD bude sleva odečtena z cen pro Klub BestDrive.  
Na autoservis je možné objednat se on-line, uplatnění kupónu je ovšem pouze fyzicky na pobočce.
Sleva platí pouze při nákupu hotově nebo platební kartou.
Slevu je možné využít na všech vlastních pobočkách servisní sítě BestDrive a u vybraných franšízových partnerů.
Ceny a slevy jsou garantované pouze na pobočkách společnosti ContiTrade Services s.r.o., pro partnery sítě BestDrive je nabídka nezávazná.
Tato akce platí od 28. 3. do 30. 4. 2022