Tip for you: Did you know that as a member of the BestDrive Club (BDC) you can buy cheaper?
Buy as BDC
Novinky léto 2022, SportContact 7, UltraContact, VanContact Ultra
Naše pneuservisní a autoservisní síť BestDrive si Vám dovoluje představit novinky na trhu prémiových pneumatik. Společnost Continental přináší novinky v oblasti osobních, SUV a vanových pneumatikách.
4 hlavní důvody, proč si zvolit pneumatiky Continental:
Společnost Continental dává lidem důvěru, spolehlivost a bezpečnou jízdu více jak 150 let.
Pneumatiky Continental mají excelentní výkon a dlouhou životnost.
Jsou testované v reálných podmínkách.
Pneumatiky zkonstruované s německou odborností s použitím nejmodernějších technologií a špičkových inovací.
Continental SportContact™ 7  - pneumatiky pro širokou škálu vozidel
Pokud si je pořídíte, tak můžete usínat s vědomím, že svým pneumatikám můžete důvěřovat za všech okolností, poskytnou Vám jistotu na cestách. Nová pneumatika SportContact™ 7 byla navržena tak, aby Vám dodala sebedůvěru překonávat Vaše vlastní limity a abyste si mohli jednoduše užívat maximální potěšení z jízdy.
Garantuje stabilní a jisté řízení na suché i mokré vozovce.
Perfektně vyladěná kombinace extra měkké směsi BlackChili a výjimečně tuhého dezénu jsou zárukou dosud nepoznaného potěšení z jízdy, které ve Vás přetrvá opravdu dlouho.
Pneumatika vyrobená na míru pro různé třídy vozidel, aby Vám dokázala poskytnout typický feeling řady SportContact™.
Je nabízena v palcových řadách 18" - 22".
Co zákazník získá koupí pneumatiky SportContact™ 7?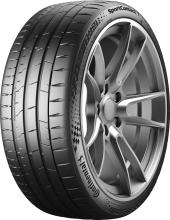 ADAPTIVNÍ DEZÉN - PŘIZPŮSOBÍ SE VŠEM VÝZVÁM NA CESTÁCH
Každý účastník silničního provozu ví, že jízdní podmínky se mohou na silnici změnit každým okamžikem. Abyste se cítili v absolutním bezpečí, byl vyvinut nový adaptivní dezén, který poskytuje bezpečné a sebevědomé chování v kombinaci s vyšší úrovní stability v zatáčkách za mokra i za sucha.
PNEUMATIKA PRO VÁŠ VŮZ
Zcela nový SportContact™ 7 je první pneumatika, která je dimenzována pro vaši třídu vozidel.
Těžká vozidla mají jiné výkonnostní požadavky než lehká vozidla. Konstrukce SportContact™ 7 je přizpůsobena různým třídám a hmotnostem automobilů. Byly vyvinuty nové technologie, které jsou aplikovány v závislosti na rozměru pneumatiky a tím byl zaručen výborný pocit s jízdy a vysoký výkon pneumatiky SportContact™ 7.  
LEPŠÍ POŽITEK Z JÍZDY
Tato speciální kombinace vytváří další úroveň potěšení z jízdy, které si díky zvýšenému počtu kilometrů můžete užít déle než kdy dříve.
UltraContact je vyrobena tak, aby vydržela
UltraContact je nová prémiová letní pneumatika společnosti Continental s vynikající životností. Hlavními výhodami jsou:
Vynikající kilometrový výkon, pneumatika, se kterou najedete více kilometrů, než kdy dříve.
Mimořádná robustnost zajišťuje větší ochranu proti poškození při každodenní jízdě.
UltraContact nabízí krátkou brzdnou dráhu pro bezpečný a uklidňující zážitek z jízdy i na mokré kluzké vozovce
Je tišší než jiné pneumatiky, dezén nabízí pohlcovače hluku.
Dezén obsahuje novou směs YellowChilli, ta umožňuje:
Přizpůsobenou polymerní síť
Vysoce odolné polymerové spoje
Prémiové a nejmodernější technologie
Porovnání vybraných osobních pneumatik versus UltraContact

VanContact Ultra - nová pneumatika pro dodávkové a Van automobily
Nová pneumatika VanContact Ultra představuje vynikající kilometrový výkon a valivý odpor, nabízí zákazníkům nejlepší letní pneumatiku na trhu pro užitkové automobily.
Její přednosti:
Nová generace robustnosti a dlouhé životnosti
Nízká spotřeba paliva (až po označení B)
Vysoká bezpečnost