Tip for you: Did you know that as a member of the BestDrive Club (BDC) you can buy cheaper?
Buy as BDC
Zamlžené světlomety, závada nebo běžná věc
S babím létem a podzimními srážkami přichází obávaný strašák řidičů a objevuje se čím dál častěji. Zamlžené nebo orosené světlomety, které se týkají starších ojetin i zbrusu nových aut.
Proč se světla mlží a jak nešvaru zabránit? Projděte si s námi, proč k zamlžení vůbec dochází a v jakých případech je potřeba vyhledat pomoc odborníků.
Proč k zamlžení dochází?
Světlomety vozidla nejsou nepropustné. Každé světlo na autě se odvětrává štěrbinami, kterými cirkuluje vzduch. Důvodem jsou halogenové žárovky a xenonové výbojky. Vytváří příliš mnoho tepla, a to je potřeba odvádět.
Přes větrací otvory proniká do světlometů i nežádoucí vlhkost z ovzduší. Pokud má vzduch uvnitř světla vlhkost na úrovni 50 %, teplotu 20 stupňů a okolní klesne na přibližně 9 stupňů, uvnitř světlometů se objeví opar.
Existuje ale rozdíl mezi jemným oparem a kapkami nebo "stojaté vodě". Jemný opar se objeví u kraje difuzoru. Stojatá voda už je známka závady.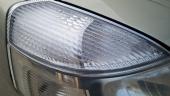 Kdy je zamlžení normální?
Mírný opar je normální v případě, že zamlžení po pár kilometrech jízdy zmizí. Vzduch během jízdy krouží uvnitř světlometu a účinně odstraňuje vlhkost. Světla jsou navíc konstruována tak, aby zajistila efektivní větrání a rychlé odstranění zamlžení.
Kdy jde o závadu?
Důležitým znakem jsou kapičky, téměř mlha a voda. Na světlometech se nesmí hromadit patrné kapičky, zamlžení by nemělo bránit pohledu dovnitř a ve spodní části se nesmí hromadit voda.
Pokud orosení po pár minutách jízdy nezmizí a vy najdete jeden z výše uvedených příznaků, světlomety nejsou v pořádku.
Co zkontrolujete doma?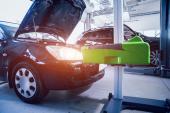 Jestliže zamlžení trvá déle, než by mělo, můžete zkontrolovat drobná poškození. Jestli na světlech nejsou praskliny, jestli je žárovka dobře nasazená, jestli všechny gumové kryty správně těsní. Netěsnost dobře poznáte po projetí myčkou, podzimní přeháňce nebo zimní nadílce sněhu, který následně roztaje.
Ať už objevíte závadu, se kterou si sami neporadíte, nebo na nic nepřijdete a problém přetrvává, navštivte odborníky. Delším používáním poškozeného dílu zvyšujete riziko nehody a ohrožujete sebe i ostatní účastníky na silnicích.
Čím zamlžení předejdete?
Nejlepším řešením je se problému se zamlžením preventivně vyhnout a nechat si pravidelně kontrolovat stav světlometů. Revize světel a jejich seřízení znamená dobře vidět i být dobře viděn.
Během jízdy jsou světla vystavena otřesům a závisí na stavu podvozku, tlumičů, pružin nebo huštění pneumatik. Kontrolu, případně seřízení, provádíme v BestDrive servisech při každé servisní prohlídce, během STK a samozřejmě na požádání. Na místě provedeme výměnu vadné žárovky nebo rovnou renovaci zašlých světlometů.
Se světly zkontrolujte i autobaterii
Blížící se podzim s sebou přináší úbytek denního světla, mrazivější rána i nárůst spotřeby elektrické energie od vyhřívání sedaček po vytápění během cesty do práce.
Zvýšenou spotřebu musí pokrýt systém elektrického napájení vozidla. Součástí je i autobaterie, která v chladných měsících trpí vysokou zátěží. Navíc mrazivé teploty snižují její kapacitu. Proto spojte podzimní kontrolu světlometů s kontrolou autobaterie a akumulátoru.
Samotný test baterie zvládneme v servisech za pár minut. Prozradí nám, v jaké kondici je vaše baterka a jestli potřebuje vyměnit.
Nenechávejte přípravu vašeho vozidla na poslední chvíli. S BestDrivem budete na zimu připraveni včas.