Tip for you: Did you know that as a member of the BestDrive Club (BDC) you can buy cheaper?
Buy as BDC
Kuny útočí – začíná sezóna
Je mrazivé ráno. Pospícháte. Rychle za sebou zavíráte dveře od domu. Nasedáte do auta. Startujete a ticho... Důvodů závady je mnoho a jedním z nich je nezvaný host pod vaší kapotou. Kuny se do vozidel schovávají hlavně před zimou. Bohužel jejich noční návštěva není pouze o spánku.
Přečtěte si s námi, jaká je proti kunám nejlepší obrana a co dělat, když napáchají škody.
Většinou rozhoduje značka
Kuna má své preference. O tom, co všechno budete opravovat, rozhoduje typ vozidla a jeho značka. Ne každá kuně chutná. Mezi "nejoblíbenější" patří Škoda nebo Volkswagen s kabely kolem motoru. Na druhém místě je Seat a kabelové svazky. Třetí místo obsadil Hyundai s podtlakovými hadičkami.
Překousané kabely
Když už se kuna dostane k motoru, pustí se do kabelů, izolace, manžet i hadiček. Nejvíce trpí textilní izolace na spodní straně kapoty, gumové prachovky, oplety hadic od chladícího systému, podtlakové hadičky a bužírky elektroinstalace.
Někdy návštěvu nepoznáte. Jindy svítí kontrolka motoru nebo nouzový režim. A často vůbec nenastartujete.
V některých případech vedou překousané kabely k poničení řídící jednotky.
Zničené dráty od zapalování
Mezi nejoblíbenější pochoutky patří zapalovací kabely. Kuně stačí pár minut na ohřátí a pustí se do okusování izolace. Ta je mnohdy tak zničená, že už auto nenastartujete.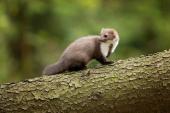 Poškozená elektroinstalace
Bužírková ochrana a textilní izolační protihluková výplň elektroizolace kuně chutná. Vy tak přijdete o kabely vedoucí okolo motoru. 
Neubližujte jim
V žádném případě kunu nezabíjejte. Chytat je, trávit a jinak jim ubližovat se považuje za trestný čin. Tyto lasicovité šelmy patří mezi zákonem chráněná zvířata.
Co na kunu zabírá
Lidské vlasy a psí/kočičí chlupy
Kuna se člověka nebo domácích mazlíčků přirozeně bojí. Logickou obranou jsou tedy lidské vlasy a psí i kočičí chlupy. Stačí je dát do punčochy a zavěsit k motoru.
Pletivo
S malými pacičkami se kunám po pletivu velmi špatně chodí. Umístěte ho nejlépe pod motorovou část auta.
Domácí prostředky
Kuně nepřirozené vůně vadí. Podle babských rad zabírá citrusový olej, formalín, ocet, čpavek, petrolej nebo savo. Vsaďte i na voňavé mýdlo, pepř, tuhý podpalovač a WC blok. Prostředkem natřete kabely nebo ho položte blízko motoru.
Pachové odpuzovače
Další možností jsou odpuzovače ve spreji určené přímo proti kunám. Obsahují látku Geraniol a ta šelmám zapáchá. Sprej nastříkáte na motor, kabely i hadičky a po pár týdnech vrstvu obnovíte.
Elektronické odpuzovače
Nejdražší variantou jsou akustické a ultrazvukové odpuzovače.
Akustické vydávají zvuky, které uslyšíte i vy. Nejsou však moc hlasité. Položte je co nejblíže plastové součástce. Zvuk se tak lépe odráží.
Naopak ty ultrazvukové nezaslechnete. Vysílají zvuk o frekvenci nad 20kHz, která kuně vadí. Tady si dejte s umístěním záležet. Správné místo zajistí šíření vln do celého motorového prostoru.
Co dělat s překousanými kabely
Nejhorší situace nastává, pokud po útoku kuny nenastartujete. Nepokoušejte se kabely opravit sami. Zavolejte si odtah nebo požádejte souseda o odvoz do servisu.
Částka, kterou zaplatíte za opravu, záleží na rozsahu poškození.
Na pobočkách BestDrive vaše vozidlo zkontrolujeme. Provedeme diagnostiku elektronických systémů. Odhalíme tak případné závady a opravíme, co kuny napáchaly.