Tip for you: Did you know that as a member of the BestDrive Club (BDC) you can buy cheaper?
Buy as BDC
Jak v zimě nastartovat auto
Začíná období chladných rán, kdy se teplota sotva vyšplhá nad nulu. Se zimou přichází nepříznivé počasí i časté komplikace s vozidly. Zejména s jejich nastartováním. Přestože jde technologie kupředu a výrobci neustále vylepšují systémy, někdy motor stávkuje a vy zkrátka nenastartujete.
Jak takové situaci předejít a na co si dávat pozor?
Kupujte kvalitní palivo
Určitě jste několikrát narazili na čerpací stanice vedené soukromými majiteli nebo levnějšími řetězci. V zimním období se jim vyhněte. Neriskujte. Raději vyhledávejte čerpací stanice renomovaných značek. Ta prodává například zimní paliva obohacená zimními aditivy. To jsou příměsi, které vylepšují vlastnosti pohonných hmot i olejů. Ty pak lépe reagují na chlad a vydrží nižší teploty.
Otestujte baterii
Zvyšte své šance na ranní nastartování. Malý test za to určitě stojí.
S nízkými teplotami klesá baterii startovací energie. Při teplotě −10 ℃ má zhruba o 30 % své kapacity méně.
V BestDrive servisu otestujeme Vaši baterii za 2 minuty. Dozvíte se, zda je v pořádku, nebo jestli je čas na její výměnu.
Mějte připravené kabely
Startovací kabely vás při ranních potížích zachrání. Mějte je proto raději vždy v kufru a požádejte ochotného souseda o pomoc. Za pár minut po připojení k vaší baterii lehce nastartujete a odjedete.
Rozhodně nevypínejte motor po krátké cestě. Baterie potřebuje delší jízdu, klidně i hodinovou, aby se akumulátor vrátil zpět do původního stavu.
Dobíjejte akumulátor
Během startování spotřebuje studený motor spoustu energie. To samé platí o dalších spotřebičích jako je vyhřívání oken, sedadel nebo elektrický ohřev motoru. A krátká cesta baterii nedobije.
Pokud jezdíte pár kilometrů do práce, myslete na pravidelné nabíjení akumulátoru. Nebo si minimálně jednou týdně naplánujte delší cestu na 50 km. Baterie se dobije za jízdy.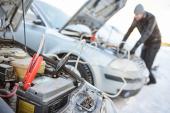 Zaměřte se na autobaterii
Autobaterie jsou velmi citlivé na výkyvy teplot a chladné počasí. Na jejich životnost má vliv zejména samotná konstrukce, styl používání a pravidelné dobíjení.
Jak vybrat autobaterii a tím i vhodnou konstrukci?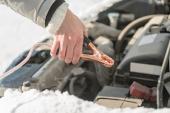 Dívejte se na její rozměry, napětí, kapacitu, startovací proud, polaritu a velikost pólu.
Místo pro autobaterii v autě je omezené. Nejjednodušším způsobem je změřit současnou baterii (délku, šířku, výšku). Rozměry těch evropských jsou standardizované a se sílou baterie roste její velikost. Do asijských vozů sedí pouze konkrétní asijské rozměry.
Údaj o napětí naleznete na štítku autobaterie. Všechna vozidla v dnešní době využívají 12 V. Na štítku je také uvedena kapacita. Kapacitu vždy vybírejte dle doporučení výrobce vozidla. Pokud vyberete baterii s nižší kapacitou, její životnost bude krátká.
Startovací proud má jednotku A. Nejběžnější možností je baterie se startovacích proudem o přibližně 550 A. Ta se hodí do benzínových osobních vozidel. Do dieselových aut hledejte proud nad 600 A.
Dalším kritériem je polarita. Evropské automobily mají polaritu pravou a asijské levou. Když k sobě postavíte baterii stranou s póly a + pól je na pravé straně, jedná se o polaritu pravou (označenou 0). Pokud je + pól vlevo, jde o polaritu levou (označenou 1). 
Posledním bodem je velikost pólů. Evropské vozy mají opět danou velikost, a to je pól č. 1. Asijská auta v mnoha případech disponují užším pólem s označením č. 3.
Je mnoho věcí, na které člověk musí myslet s příchodem zimního období. V případě autobaterie je nejjednodušší, když zajedete do servisu BestDrive.
Zkontrolujeme stav vaší stávající baterie, na požádání provedeme servisní prohlídku a po domluvě s vámi poškozenou autobaterii rovnou vyměníme. Vybíráme z té nejlepší nabídky autobaterií Continental s prémiovým výkonem, vysokou kapacitou a odolností v extrémních teplotách.
Zvolte pro svůj vůz správnou technologii. Kontaktujte naši nejbližší pobočku a nechte si poradit od odborníků.