Tip for you: Did you know that as a member of the BestDrive Club (BDC) you can buy cheaper?
Buy as BDC
Jak bezpečně začít motorkářskou sezónu?
První jarní den je úspěšně za námi a s nadcházejícím teplým obdobím přichází motorkářská sezóna. Na silnice vyjíždějí milovníci motorek, kteří odzimovávají své stroje. Podle policejních statistik patří motorkáři k jedné z nejohroženějších skupin na komunikacích. Je tedy potřeba se řádně i bezpečně připravit. Přečtěte si, co vám nesmí chybět ve výbavě a jaká nabídka motocyklových pneu na vás čeká.
Začněte pozvolna a opatrně
S návratem motocyklistů na silnice po dlouhé zimní pauze se projevují řidičské návyky i "vyježděnost". Ta se mohla přes zimu částečně vytratit. Velké riziko čeká na studeném, zmrzlém povrchu silnice a hrozí v případě nedostatečné přilnavosti pneumatik i nečistot po zimních údržbách.
Začínejte tedy pozvolna a opatrně. Jen tak se vám bezpečně vrátí všechny zkušenosti z předchozího motorkářského období.
Zvolte správnou výbavu
Používat správné vybavení je základní pravidlo pro všechny motocyklisty. Jednou z nejdůležitějších částí je přilba, která je ze zákonu povinná. Přilba s hledím musí být označeny schvalovací značkou podle předpisu EHK OSN číslo 22. Takže v kroužku vepsané velké E doplněné jedním nebo dvoučíselným číslem udávajícím kód státu, který motocyklistickou přilbu schválil (pro ČR je 8). Zároveň zkontrolujte, jestli vám helma sedí pevně a rovnoměrně.
Součástí správné výbavy je pevné oblečení. Nepodceňujte ho ani v horkých dnech. Krátké kalhoty s volným tričkem na motorku nepatří. Raději si pořiďte takové ochranné oblečení, které bude pohodlné a komfortní.
Mezi další důležité ochranné doplňky patří rukavice, pevná obuv, chránič páteře i reflexní prvky.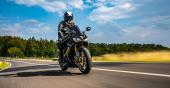 Pořádně zkontrolujte motorku
Brzdy
Brzdy musí být funkční. Dávejte si při jejich kontrole pozor. Nepodceňujte jakoukoliv malou závadu. Zaměřte se na brzdové destičky a brzdovou kapalinu. Opotřebované destičky ztrácí svůj brzdný účinek. V krizové situaci vám tak mohou pěkně zavařit.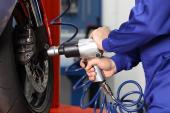 Řetěz

Řetěz potřebuje zvláštní péči. Vyčistěte ho od povrchové rzi, namažte speciálními prostředky a správně ho napněte. Průvěs se běžně nechává od 3 cm, záleží na typu motorky.
Pneumatiky
Naprostým základem jsou správné pneumatiky. Jejich tlak má vliv na chování motorky. Nedofouknuté nebo naopak přefouknuté pneu mají rozdílné vlastnosti.
Držte se tlaku, který doporučuje výrobce, a hlídejte si profil i její stáří. Týden s rokem výroby najdete v malém kolečku pod označením DOT.
Pneu novinky od Continental
Se začátkem motorkářské sezóny vám přinášíme přehled nejnovějších pneumatik, které nabízí společnost Continental.
ContiRoadAttack 4
Pneumatiky ContiRoadAttack 4 poskytne nadšencům do motorek novou směs a dezén pro ještě lepší záběrové vlastnosti. Vylepšená konstrukce přední pneumatiky dodá odezvu i agilitu. U nejnovějších motorek nabízí novou úroveň sportovních vlastností, u těch starších naopak zvyšuje výkon.
ContiSportAttack 4
ContiSportAttack 4 je oblíbenou pneumatikou mezi motorkáři se sportovním stylem jízdy. Novinka 4. generace představuje větší styčnou plochu v hlubokých náklonech, vyšší jistotu i lepší přilnavost.
Díky směsi BlackChili Performance vás pneumatika potěší záběrovými vlastnostmi, přesností při zatáčení nebo rychlým zahřátím.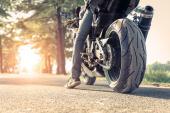 TKC 70 Rocks
Pneumatika TKC 70 si na svou stranu získá dobrodruhy a cestovatele. Překvapí vás lepší trakcí v terénu, vynikajícím výkonem na silnici i příjemným tichem během jízdy.
Nové servisní služby na pobočkách BestDrive
Naše pneuservisní i autosevisní síť BestDrive rozšiřuje své portfolio služeb, a to o pneuservis motocyklů. Služby nabízíme na vybraných pobočkách, kde se profesionální mechanici postarají o vaši motorku, pneumatiky, pláště a další potřebné součástky.
Více informací na https://www.bestdrive.cz/motocyklove-pneumatiky.html.