Tip for you: Did you know that as a member of the BestDrive Club (BDC) you can buy cheaper?
Buy as BDC
Emoce za volant nepatří
Každý z nás reaguje na situace a okamžiky odlišně. Obzvlášť, když působí stres nebo narazíme na nepříjemnou událost. Zaplaví nás emoce a my můžeme nepřiměřené zareagovat. Do emocí, které nás při řízení ovlivňují, nepatří pouze vztek. Negativní vliv na naše chování má také smutek, strach, dokonce i radost. A když jsou emoce silnější než zdravý rozum, nastává neštěstí.
Poradíme vám, jak se s jednotlivými emocemi poprat a co dělat, když za volantem narazíte na agresora.
Strach
Stává se, že si řidič za volantem nevěří. Není ve své kůži, zažívá návaly úzkostí a je nejistý. Příčin strachu z řízení může být hned několik. Málo zkušeností, dlouhá přestávka mezi řízením nebo traumatizující zážitek. Ve všech případech se ale řidič stává nebezpečným pro sebe i své okolí.
Často jezdí zbytečně pomalu, jedná nepřiměřeně, nepředvídá. Vykolejí ho každá nečekaná situace, během které zareaguje například silným zabrzděním nebo strhnutím volantu na stranu. Strach otupuje reakce a přebíjí zdravý rozum. Mnohdy jsou ustrašení řidiči nečitelní pro druhé.
Pokud máte strach ze řízení, investujte do kondičních jízd v autoškole. Jezděte se zkušenějším řidičem nebo se přihlaste do kurzu řízení. Zvýšíte tak svůj pocit jistoty za volantem.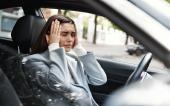 Vztek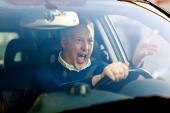 Velmi nebezpečná je agresivita na silnicích. Ta se podle statistik podílí až na 40 % smrtelných dopravních nehod a potkáváte se s ní v podobě vybržďování, zablokování i slovních nebo fyzických útoků. Iniciátorem je často chování ostatních řidičů a nepříjemná situace na komunikacích (např. zácpa). Negativní emoce se navíc velmi snadno šíří. Spouští se tzv. řetězová reakce a riziko nepříjemné nehody se zvyšuje.
Řešení je občas jednoduché. Někdy stačí omluvné gesto. Pokud je vztek na vaší straně, najděte rozptýlení. Soustřeďte se na rádio, osobu na místě spolujezdce nebo se napijte. Snažte se ignorovat spouštěč agresivity.
Radost
Mezi další extrémní pocity patří euforie a radost. Přestože vnímáte tyto emoce jako kladné, nejsou o nic méně bezpečné než například strach. Také způsobují nebezpečné chování na komunikaci.
Řdiči v euforii snadno podlehnou dojmu, že se jim všechno daří. Často proto spěchají, jsou zbrklí, pořádně se nesoustředí. Berou do ruky mobilní telefon a volají nejbližším svůj úspěch.
V případě, že slavíte a nemůže to počkat, nikam nejezděte. V klidu a na místě zavolejte, komu potřebujete. Za volant si sedněte, až největší euforie pomine.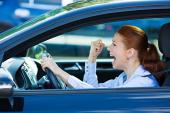 Smutek
Opačným pocitem k radosti je smutek. Ten je také emocí, která způsobuje dopravní nehody. Lítost zastřešuje oči i rozum, zpomaluje reakce a snižuje pozornost. Ve středu veškerého soustředění je právě problém nebo událost, která smutek vyvolala.
Ve špatném psychickém stavu za volant nesedejte. Pokud vás v průběhu jízdy ovládne smutek, zastavte a bezpečně vystupte z auta. Projďěte se, nadýchejte se čerstvého vzduchu a nebojte se například zavolat někomu blízkému o pomoc.
Když agresorem za volantem nejste vy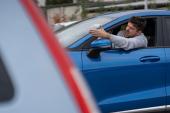 S agresorem za volantem se může potkat každý řidič. V některých případech jde pouze o netrpělivé předjíždění nebo významné troubení. Horší je, když narazíte na vybržďování, vytlačování nebo dokonce fyzické napadení.
Neexistuje univerzální pomůcka, která by vám pomohla se agresivního řidiče zbavit. Přesto se můžete zachovat tak, abyste se vyhnuli dopravní nehodě. Pokud narazíte na nepříjemného člověka, chovejte se pasivně. Upozaďte své ego a nechte ho, ať vás klidně předjede. V případě vybržďování uhněte do volného pruhu, neblikejte nebo netrubte. Hlavně neoplácejte. Agresivita je lehce náchylná.
V některých případech můžete jednání ohlásit policii. Nemusí přitom dojít přímo ke srážce nebo jiné škodě. Agresivní řidič bude pravděpodobně obtěžovat i další účastníky provozu a upozornění policii může zabránit nehodě.