Tip for you: Did you know that as a member of the BestDrive Club (BDC) you can buy cheaper?
Buy as BDC
Co je geometrie vozu a kolik vás stojí?
Náprava, kola a pneumatiky se řadí mezí nejvíce zatěžované části vozidla. Navíc jim hrozí poškození při přejíždění nerovností na komunikaci. Ty mohou mít negativní dopad na geometrii vozu, která ovlivňuje vaši bezpečnost, životnost pneumatik, dílů podvozku a v neposlední řadě spotřebu paliva. Víte, jak špatnou geometrii vozu poznat, kolik vás může stát a kdy je nejlepší auto zkontrolovat?
Co je geometrie vozu
Zavěšení kol udržuje kola v optimálním úhlu vůči vozovce a zajišťuje tak co nejlepší kontakt s vozovkou. To je klíč k dobré ovladatelnosti vozidla. Důležitý je tedy úhel mezi osou kola a rovinou komunikace.
Kontrola a seřízení geometrie kol spočívá v nastavení úhlů v souladu s parametry stanovenými výrobcem vozidla a zároveň v revizi opotřebení pneumatik.
Základní parametry geometrie kol
Odborníci rozlišují dva základní termíny, odklon a záklon kol a sbíhavost kol. To jsou výrazy, kterými se geometrie vozidla řídí.
Odklon kola
Odklon kola je úhel, který ve směru jízdy svírá svislá osa kola a rovina. Kola mohou být kolmo, do písmene A (příklon, záporný odklon) nebo do písmene V (odklon, pozitivní odklon). Odklon poznáte podle předního nebo zadního pohledu na auto.
Běhouny pneumatik se nerovnoměrně opotřebovávají, když je odklon od silnice příliš velký. V opačném případě dochází k opotřebení buď na vnitřní, nebo vnější hraně běhounů.
Správné nastavení odklonu kol určuje výrobce tak, aby se pneumatiky dotýkaly vozovky co největší plochou.
Sbíhavost kol
Sbíhavost kol je úhel svíraný rovinou kola a podélnou osou vozu. Měří se jako rozdíl vzdálenosti kol na předním a zadním okraji ráfku ve výši poloměru kola nad vozovkou.
Sbíhavost kol poznáte z ptačí perspektivy a na předních kolech. Pokud je máte do písmene A (sbíhavost, mimo toleranci výrobce vozidla), váš vůz je nedotáčivý, kola se sbíhají k sobě a pneumatiky se opotřebovávají na jejich vnější straně. U rozbíhavosti, tedy tvaru písmene V nad rámec tolerance výrobce vozidla, se vozidlo stává přetáčivým, kola míří od sebe a pneu se sjíždí na vnitřní straně.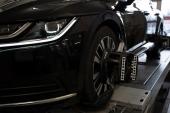 Co způsobuje problémy
Opotřebené díly řízení a zavěšení kol způsobují špatnou geometrii vozidla. Dále mohou vznikat problémy po střetu auta s výmolem nebo obrubníkem.
Jak se špatná geometrie projevuje
Špatně nastavenou geometrii poznáte na pneumatikách, jejich nepravidelném sjíždění, neochotě auta držet přímý směr a výrazným zatáčením pouze na jednu stranu.
Kolik vás špatná geometrie stojí
Jízda se špatně nastavenou geometrií kol je nebezpečná a drahá. Postupně dochází k opotřebení pneumatik a poškození mechanických částí v systému řízení. V obou případech je potřeba navštívit servis. A když k tomu přičtete větší výdaje za spotřebované palivo, špatná geometrie vozu se může nečekaně prodražit.
Kdy auto nechat zkontrolovat
Špatná geometrie se při běžné jízdě nemusí projevit, ale vy ji výrazněji poznáte v krizových situacích (náhle brzdění nebo prudké vyhýbání). Geometrii proto nechte zkontrolovat minimálně jednou ročně, nejlépe při přezouvání pneumatik.
Dále záleží na vašem pocitu z jízdy. Pokud se ale připletete do bouračky, najedete do hlubokého výmolu nebo narazíte kolem do obrubníku, nechejte auto zkontrolovat. Bez revize nemusíte problém vůbec poznat.
V BestDrive servisech vaše vozidlo zkontrolujeme, seřídíme a případně přezujeme.
Více se o našich službách dozvíte na https://www.bestdrive.cz/serizeni-geometrie.html.