Tip for you: Did you know that as a member of the BestDrive Club (BDC) you can buy cheaper?
Buy as BDC
Barva auta a riziko nehody
V dnešním světě automobilů je každý model vozidla k dispozici v různých barevných variantách. Jako zkušený řidič si možná říkáte, že barva je až poslední kritérium a vybíráte na základě úplně jiných měřítek. Víte ale, že s určitými barvami může být vaše jízda na silnicích bezpečnější?
Vztah mezi barvou vozu a bezpečností na komunikacích není nevyvratitelný fakt, který platí ve všech případech. Ale podle výzkumu australské univerzity Monash existuje spojitost mezi barvou laku a nehodovostí. Vozidla s určitou barvou jsou častěji účastníky havárie.
Bezpečné barvy
Studie australské univerzity analyzovala celkem 17 různých barev. Bílá barva je referenční, a právě k ní se vztahuje procentové porovnání rizikovosti.

Bílá
Statistiky mluví jasně. Bílá barva je nejbezpečnější volbou pro automobily. Bílý lak je dobře viditelný ve dne, v noci, ve městě nebo na dálnici. Silnice a její okolí jsou často tmavé, takže bílá je maximálně kontrastní.
Žlutá
Existuje důvod, proč je žlutá barvou veřejné dopravy, taxíků nebo záchranných služeb. Je jasná a vyniká v různých podmínkách.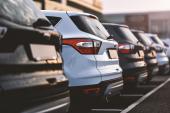 Nebezpečné barvy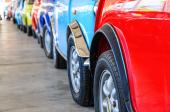 Důvod, proč na barvě záleží, je jednoduchý. Některé barvy na silnici přímo září a jsou daleko lépe viditelné. Jiné naopak snadno přehlédnete.
Černá
Podle výše zmíněné studie je černá nejvíce nebezpečnou barvou a s její nejvyšší nehodovostí je až o 12 % více pravděpodobné, že se dostanete do nesnází. Černá auta jsou navíc špatně viditelná za soumraku nebo svítání.
Šedá nebo stříbrná
Šedí i stříbrná patří mezi nejoblíbenější barvy v Evropě, bohužel z pohledu nehodovosti nejsou nejlepší volbou. Hlavním faktorem, který vysvětluje o 11 % vyšší pravděpodobnost autonehody, je opět viditelnost. Šedá se stříbrnou příliš nevynikají na šedém pozadí vozovky.
Modrá
Automobily s modrým lakem mají menší riziko nehod než černá nebo šedá, ale někdy je těžké odlišit modrý vůz od barvy oblohy. Tmavší odstíny často splývají a mnoha řidičům dělá problém tyto auta rozeznat na dálku.
Zelená
Přestože je zelená barva jasná a zářivá, studie ukázala, že se nejedná o bezpečnou volbu. Zelený lak může splývat se stromy, trávou nebo semafory, a to zejména během jízdy na volném prostranství.
Červená
Obecně platí, že čím viditelnější je barva vozu, tím menší je pravděpodobnost dopravní nehody. Červená barva je však vyjímka. V deštivém, mlhavém nebo zasněženém počasí funguje perfektně, ale v noci se její záře ztrácí. Navíc splývá se světly semaforů, brzdovými světly a dalšími typy pouličního osvětlení.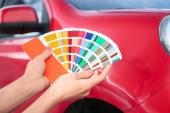 Nejpopulárnější barvy
Bezpečnost jednotlivých barev je jedna věc, ale mnoho řidičů si vybírá lak podle vlastního vkusu. Společnost Axalta přišla na konci roku 2021 s výzkumem nejoblíbenějších automobilových barev a Evropa překvapila.
V Evropě si řidiči nejčastěji volí barvu šedou, přestože není nejlepší volbou z pohledu nehodovosti. Na druhém místě září bílá a na třetím černá.
Nejméně oblíbenými jsou zelená a žlutá, přestože patří mezi nejvíce bezpečnou barvu.
Zbytek světa vsadil na bezpečnost a neutralitu, nejvíce aut má bílý lak. O druhé místo se dělí černá s šedou a nejméně viděnou barvou je žlutá, stejně jako u nás.
Proto aby vás bylo dobře vidět je důležité mít správně seřízené světlomety.
Nastavení správného úhlu světla nebo výměna žárovky je u dnešních moderních aut obtížná práce. Pro vaši větší jistotu a přesnější seřízení navštivte odborný servis. Na vybraných pobočkách BestDrive vám světlomety zkontrolujeme a na požádání seřídíme. Objednejte se online.